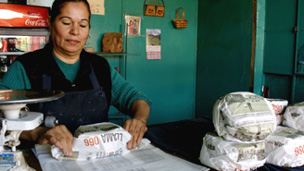 Les tortillas au secours
23 novembre 2012 Dernière mise à jour à 17:32 GMT
Transcription
They are a staple of the Mexican diet. But now, authorities have decided to use tortillas to raise awareness of missing people.
More than 30 vendors in Chihuahua have started to print information on the flatbread's packaging about people who have disappeared.
The government hopes the campaign, which also includes posters and flyers, will encourage citizens to report missing people as early as possible.
Vocabulaire
staple: main or basic part of a diet
to raise awareness of: let people know about
packaging: the temporary container for a new product
disappeared: vanished
encourage: make someone likely to do something
Exercices
Use one of the words or phrases below to complete each of these sentences from news reports. Note that you may have to change the form of a word to complete the sentence correctly
staple/ to raise awareness of/ packaging/ disappeared/ encourage
1. A project run by the Zoological Society for London (Evolutionarily Distinct and Globally Endangered) is trying ___________ these less appreciated creatures.
2. In New York his __________ diet was a sandwich and a salad. The idea to bring a similar concept to India grew out of the lack of fresh sandwich chains in Mumbai.
3. He highlighted grant schemes to __________ firms to take on apprentices.
4. "From a UK perspective," he added, "the most important next step would be plain __________, which effectively removes the single most important marketing tool still available to the tobacco industry, the pack itself."
5. Fernandes and two other defendants are charged with the murder of Eliza Samudio, who __________ in June 2010.
Réponses
1. A project run by the Zoological Society for London (Evolutionarily Distinct and Globally Endangered) is trying to raise awareness of these less appreciated creatures. Source: Are these animals too 'ugly' to be saved? http://bbc.in/T8cb8F
2. In New York his staple diet was a sandwich and a salad. The idea to bring a similar concept to India grew out of the lack of fresh sandwich chains in Mumbai. Source: Can Western chefs curry favour in India? http://bbc.in/WfEVNm
3. He highlighted grant schemes to encourage firms to take on apprentices. Source: Vince Cable: UK businesses more upbeat http://bbc.in/TbnIGq
4. "From a UK perspective," he added, "the most important next step would be plain packaging, which effectively removes the single most important marketing tool still available to the tobacco industry, the pack itself." Source: Should you need a licence to smoke? http://bbc.in/THR6CC
5. Fernandes and two other defendants are charged with the murder of Eliza Samudio, who disappeared in June 2010. Source: Brazil's Bruno Fernandes tried for ex-lover's murder http://bbc.in/SIAzNj