And that brand didn't exactly wrap its 6-litre W12 in sheep's clothing. The 2013 Bentley Flying Spur looks hell-bent on overtaking, especially when its saucer-like outboard headlights bear down on you in your rear-view mirror. Off-the-line acceleration has the blunt finality of a sledgehammer blow, but handling (yes, handling from a 5,400lb parlour on wheels) would flatter the sporting Continental GT coupes in Bentley's portfolio.
Inside, it's clotted cream and country estates. Leather, wood veneer, knurled gear shift, bottle cooler… scores of individual refinements that transport driver and passengers – wherever these fortunate few may be – to Crewe, England.
Read more about the 2013 Bentley Flying Spur here.
Second Opinion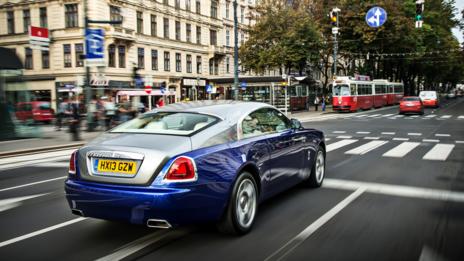 The two-door Rolls-Royce Wraith is more powerful than the Zambezi River, more opulent than the lobby of London's Grand Royale and more expensive than a ride in a Russian rocket. Of course, none of these statements are true, but when one is settled behind the Wraith's outsize steering wheel, watching the world blur by, they may as well be. – Matthew Phenix