Zero to 60mph in 2.5 seconds. Zero to 124mph in 7.2 seconds. A lap of Germany's 12.1-mile Nürburgring in 6 minutes 57 seconds, an unofficial record for the circuit. Nearly 900 total system horsepower.
What the numbers don't communicate is how pretty the thing is. After four years of very public development, Porsche's plug-in hybrid hypercar still looks as slippery and sculpted as anything on road or track. Wind tunnels are supposed to lack consciousness. They have no sense of aesthetics. The 918, a taut collection of sine waves rendered in carbon fibre, challenges that logic.
Three-way tests with the equally hyper McLaren P1 and Ferrari LaFerrari may eventually underline the 918's faults (gripes about numbness in the electrical steering rack have already trickled through). But no slalom course or braking test can disqualify a car from idol worship.
Second Opinion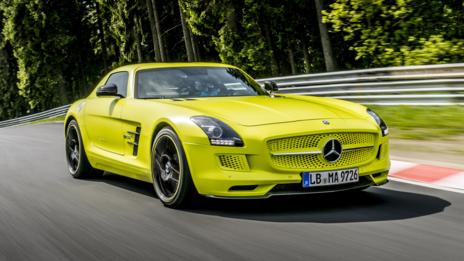 Several automakers have teased us with all-electric supercar concepts, but Mercedes-Benz was the first to make one real. Long after petrol-powered exotic cars have been consigned to history, the $570,000 SLS AMG Electric Drive, with 740 horsepower and 738 pound-feet of torque, will be remembered as the supercar that (re-)started it all. – Matthew Phenix