Ford announced on 23 February that it would bring to North America a previously Europe-only product: the Ford Focus powered by the company's diminutive 1-litre three-cylinder EcoBoost engine.
How small is it? Ford's PR staff carried a disassembled EcoBoost engine through US airport security as carry-on luggage: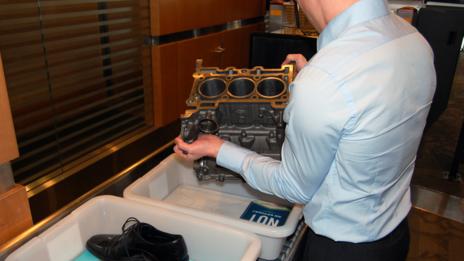 Along with the new engine – which is present in one-third of all new Focuses in Europe – the 2015 Focus receives some styling attention, with an even more Aston Martin-like trapezoidal grille treatment, as well as more sculptured hood and lighting elements front and rear. The engine is the same 123hp triple that made its North American debut in the 2014 subcompact Fiesta; it's just now tasked with moving the larger, heavier Focus.
To allay concerns that the Focus might be too big for the little EcoBoost, Ford concocted a publicity exercise in May 2012, where a team of test drivers and journalists, myself included, flogged a pair of 1-litre EcoBoost Focuses around the CERAM test track in Mortefontaine, France, for 24 hours with the object of setting the world speed record for a 1-litre car.
We set 16 of them, from the standing kilometre to the full 24 hours. Over the day of driving, the slightly faster of the two Focuses averaged 106mph, including the time lost for pit stops and driver changes. The number might have been higher, had Ford officials not asked participants to take it easy for the first 22 hours.
In the 22nd hour they green-lighted me to go flat out in sixth gear, and the car delivered an hour of driving at 120mph. The subsequent driver, who climbed aboard for the final stint, was allowed to go flat out in fifth gear and he saw speeds of 128mph.
Ford says the 2015 model accelerates to 60mph in a little over 11 seconds, somewhat sluggish by its competitors' standards, but compared to the compact-car turtles of just a decade ago, it is a rocket. Most drivers will never notice that the three-cylinder accelerates a touch more slowly than the four-cylinder version because such differences are only apparent under full-throttle, pedal-on-the-floor acceleration.
In regular driving it is more than quick enough. In France, while leaving the pits after a driver change, the record-setting car delivered tire-chirping upshifts to second and third gear, every single time, for the whole day.
What drivers will notice, however, is that the Focus earned a score of 56.5mpg in European fuel economy testing. Granted, the North America-bound version has yet to be certified on the US's EPA cycle, but the numbers should be sufficient to put the car into conversation with pricier hybrids and turbodiesel models. In a package with the relative space and comfort of the Focus, and not in a tiny, tinny minicar that extracts a pound of flesh for efficiency, the 1-litre Focus should stand tall.