Priced at a cool £1m, 'the world's first supercar' is preparing for an encore.
English anthropologist Sir Edward Tylor, after studying the behaviour of ancient humans, codified the notion of animism: a belief that objects other than humans have souls. Animism practitioners and Tylor never imagined cars in the same breath, but he would likely agree. Made from thousands of parts working together — creating friction, heat, noise, containing rapid explosions and repeating it all without sterile, binary electronic overlords — soul emerges. And several manufacturers are out to get us to believe cars do have soul, including Jaguar.
Last month, the British carmaker announced a plan to build a handful of 1950s XKSS sports cars, priced at a cool £1m each. The car was, in 1957, Jaguar's top model: a rare, expensive, headline-grabbing, barely legal racing car for the road. In other words? A halo model. Steve McQueen owned one, and that car's present value hovers around the $30m mark. And this year, the XKSS will be a halo car all over again.
Jaguar's last real halo car, the XJ220 of 1992, arrived to slightly less fanfare. Motoring writers criticised its engine, its interior, even its puny boot. The car originally wore a £470,000 price tag; today, decent examples are trading hands for only half that sum.
For a modern carmaker, building a halo model like the XJ220 is risky and expensive — really expensive. Get it wrong (think Ferrari F50 or Mercedes-Benz SLR McLaren), and wear it as a mark of shame for the rest of your days. With its XKSS, Jaguar is taking a different approach to the halo car — one that's safer, but no less scintillating. The reborn sports car isn't a flashy vanity project with a bloated budget. It's an old car that's already been designed, and it will be crafted using tools and techniques from the 1950s in a corner of Jaguar's Heritage division workshop on Brown's Lane in Coventry, a building no bigger than a typical light industrial warehouse. In this small space, simpler vehicles from a simpler time — in which cars were built by hand, not by robots, and nary a smartphone-connected dashboard was to be found — are being built for a whole new generation.
It's a thrilling project, and the classic, analogue car will no doubt be full of character and soul, but it wasn't always part of Jaguar's master plan. In fact, the mission to reinvent such cars as brand new ones came about almost by accident.
Back in 2010, the company debuted a hybrid coupe called the C-X75. To the cheers of the faithful, the car received the green light for production in 2011. The plan, said Jaguar, was to build 250 examples of the C-X75, priced at £900,000 apiece, starting in 2013. This would allow the British carmaker to be mentioned in the same breath as Porsche, Ferrari and McLaren, all of which were known to be working on hybrid hypercars. But the C-X75 was born under a bad sign. In 2012, citing the continuing global economic crisis, Jaguar cancelled the project, leaving the company halo-less.
So Jaguar came up with a novel solution. In 2014, the company announced plans build six 'Lightweight' E-Type racecars — the balance of an unfinished series of cars from 1963. The new cars would be authentic in every way that mattered, and priced at a halo-worthy £1m each. The project cost a fraction of the funds originally allotted for the production version of the C-X75, but generated a deafening global buzz nonetheless. Everyone wanted to see these retro, would-be classic cars finally finished for the 21st Century.
"There were actually 18 Lightweights on the original ledger," says Tim Hannig, Director of Jaguar Classic & Special Operations, a division formed in 2011. He's a person at the very nucleus of Jaguar's soul. Only 12 of those intended 18 were built in 1963, largely because demand for the road-going E-Type was so rapid that the factory needed all hands on production cars. And so the project fell by the wayside, only to be restarted five decades later.
But despite the pros that exist in reviving old cars as halo cars, like the fact that they're cheaper than making new ones from scratch, there are cons, too. That recreation process is long and tricky.
"As Classic and Special Operations came together, we decided to continue the Lightweights and finish out the build exactly as they planned in 1963," Hannig told us. "Taking on the build of those remaining Lightweights in 2014 was not simply a matter of looking back at the drawings and documents, which we certainly have. For one thing, we literally had no three-dimensional data on the bodies, which would be needed to reproduce them faithfully."
So Jaguar Classic digitally scanned the bodies of several original Lightweights. But arriving at a standard design proved to be no small feat, as no two were exactly alike. Moreover, because they had lived the hard life of a racing car, they had been dinged, dented, hammered out and repaired at varying levels of quality over the years. "We had to make a very educated guess on the final prototype shape for the Lightweight," says Hannig.
Body challenges surmounted, they kept to the original recipe, down to the original aluminium engine block and head. They also turned to the wisest and most experienced interior trim talent still at the company, all to re-create some old Jaguar soul. And the specs were impressive even for a modern car, cranking out 340 horsepower from the 3.8-litre twin-cam six and weighing all of 2,300 pounds (1,040kg).
Jaguar wisely decided to employ some modern materials where they were critical for track use but invisible to the observer: Brake lines are up to contemporary standards and the fuel tank contains a modern rubberised, puncture-proof lining, but it's outwardly identical to the original. "These cars carry FIA papers for racing and we encourage all the customers to enter them in events, so we decided to conform to that well-conceived specification," Hannig says.
Vintage Z, modern hero
Caught without a sports car, Nissan restored an icon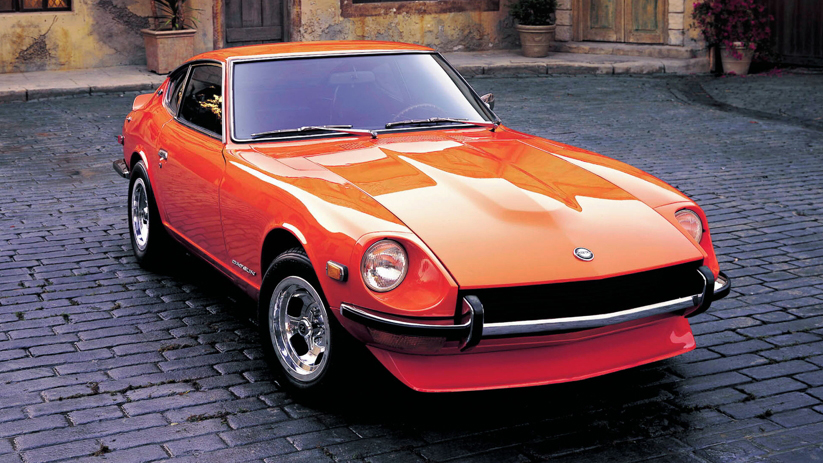 ONE OF THE FIRST car companies to build reborn classics was Nissan, which undertook a comprehensive Datsun Z-car ("Fairlady Z") restoration programme in 1996 in the US. This brought together several established Z-car restoration shops and the finished cars were sold through Nissan dealers across the country, building an ersatz Z-resto network.
There had already been a small cottage industry in the US catering to Z-car owners and enthusiasts, plus Z-cars had continued being competitive in various modified motorsports classes. (Full disclosure: this writer owned and raced one in the SCCA.) The 240Z was a clear winner and in 1972 alone, Datsun sold 56,648 of them, compared to just 23,876 MGBs, or almost 2.5 Zs for every MGB in North America that year.
Using 1970 and 1971 models as the basis, Nissan's contractors restored tired 240Zs by redoing the interiors, and rebuilding the suspensions, stripping the unibodies and painting them in original colors. A large-scale engine and transmission agreement saw those assemblies go to Texas or North Carolina for the work.
But the impetus was not simply one of longing for simpler times, the purity of driving, or soul-searching. Nissan had no sports car in its model lineup going into 1997 and the 350Z was an unconfirmed future-thing, due in late 2002. While the plan originated in 1996 with 200 reconditioned 240Zs for the forecasted price of about $22,000, that price ultimately crept up, landing at $27,500 by 1998. Nissan discovered that sourcing parts cost a lot more than anticipated and called it quits after building only 40 cars. Passion, though strong, was not enough. —JR
So, there you have it: With the Lightweight programme, Jaguar successfully took several old cars and managed to reproduce replicas that perform just as well as any brand new car on the market today. The programme worked so well that Jaguar just recently announced that other plan along the same principle: building those continuation XKSS models.
The Jaguar XKSS story is more tragic than the E-Type Lightweight's narrative, however. Twenty-five XKSSes were planned in 1957, but only 16 emerged through the doors before a fire destroyed the last nine chassis trapped inside. These were literally old D-Type racecars converted into street-car configuration after D-Type production and racing had finished. (At least two D-Types were later converted into XKSS models.)
As with the Lightweight E-Type, Jaguar found deviations built into the originals and they will replicate those deviations because they mark a unique personality to each car. They also brought in as many old-timers from their effective bench as they could who knew about the originals' riveted aluminium and WWII aircraft manufacture.
But Jaguar's not the only one. Eagle, in business now for 30 years, and Evolution E-Types, both in the UK, re-imagine the E-Type. Evolution E-Types makes virtually all the parts it uses in-house by a small team of nine people and churning out just two, maybe three cars per year for the grand fee of £250,000 to 350,000 for a steel-bodied E-Type, or about £600,000 for one with an aluminium body.
Plus, by making new halo cars from older designs, there's another obvious benefit: You can improve what was weak about the car the first time.
After we're done, it drives like a new BMW, but still has the driving DNA and mojo of a classic E-Type.
"The biggest disappointment of customers is how poorly the original cars actually drive," says Evolution owner and founder, Uryk Dmyterko. He notes that the cooling systems are sub-par, they're prone to leaks, the suspension and brakes are too soft, frames crack, the gearboxes are very noisy, and they generally don't inspire you to drive fast after 50 years of existence. "After we're done, it drives like a new BMW, but still has the driving DNA and mojo of a classic E-Type," he states.
Dmyterko also says people – even worshippers at the E-Type altar – underestimate costs. "If you think it will cost £50,000 to put right," continues Dmyterko, "it will cost £150,000. These E-Types are wonderful cars to work on; you can take bits off and do the whole car in sections, but they're let down by the parts supply. That's why we've invested heavily in making our own parts."
"These 50-year-old E-Types were advanced for the time," he continues. "But when you drive a standard modern car back-to-back with a 50-year-old, it's no contest. When you update and rebuild systems with better quality parts and engineering under the skin, it drives 1,000% better, but still has the old character. That's the crucial bit for us. That's why we all fell in love with them. The car is more reliable, better engineered and doesn't rust or fade away. After all, if you pay £250,000 for a new car, you'll have some high expectations and that shouldn't change when you spend that much on a 50-year-old car."
The brilliance of Jaguar's Heritage projects — and the work of boutique shops such as UK-based MGB and Austin-Healey restorer Frontline Developments and US-based Porsche "reimaginer" Singer Vehicle Design — is that they recapture the romance of motoring's bygone days in a controlled way. Back then, the adventure and a little risk was the big picture. You had to plan ahead. For rain. For bad ignition points. For fluid leaks. And in certain British cars of the 1950s, you needed tools not only in standard English sizes, but also in metric and Whitworth. Relying on those classic sports cars was a challenge and only those game enough attempted it. And, as payoff, you became co-opted by their charming limitations.
Nostalgia-starved audiences and relatively cheaper costs make older vehicles prime candidates for car companies' identity-defining halo cars. As big manufacturers and smaller design firms continue chasing the trend, it might mean that the stylish, simple, soulful cars of yesteryear could stick around for years to come.
If you would like to comment on this or anything else you have seen on BBC Autos, head over to our Facebook page or message us on Twitter. And while you're at it, join the BBC Autos community on Instagram.
And if you liked this story, sign up for the weekly bbc.com features newsletter, called "If You Only Read 6 Things This Week". A handpicked selection of stories from BBC Autos, Future, Earth, Culture, Capital and Travel, delivered to your inbox every Friday.