Carmakers may soon ditch animal hides for innovative new upholstery materials, including silk, wool and even sustainable vinyl made from discarded pineapple leaves.
OPTIONS FOR SEATING SURFACES do not generally extend beyond leather, a leather lookalike, some sort of utilitarian twill fabric or, if you happen to be in the market for a used Oldsmobile, button-tufted velour. But that may be changing. A range of emerging textiles — including sustainable upholstery materials that are lighter, tougher and less expensive than animal hides — could dramatically expand cars' interior options.
Seats with smarts
Embedded sensors will allow the seat of the future to know the driver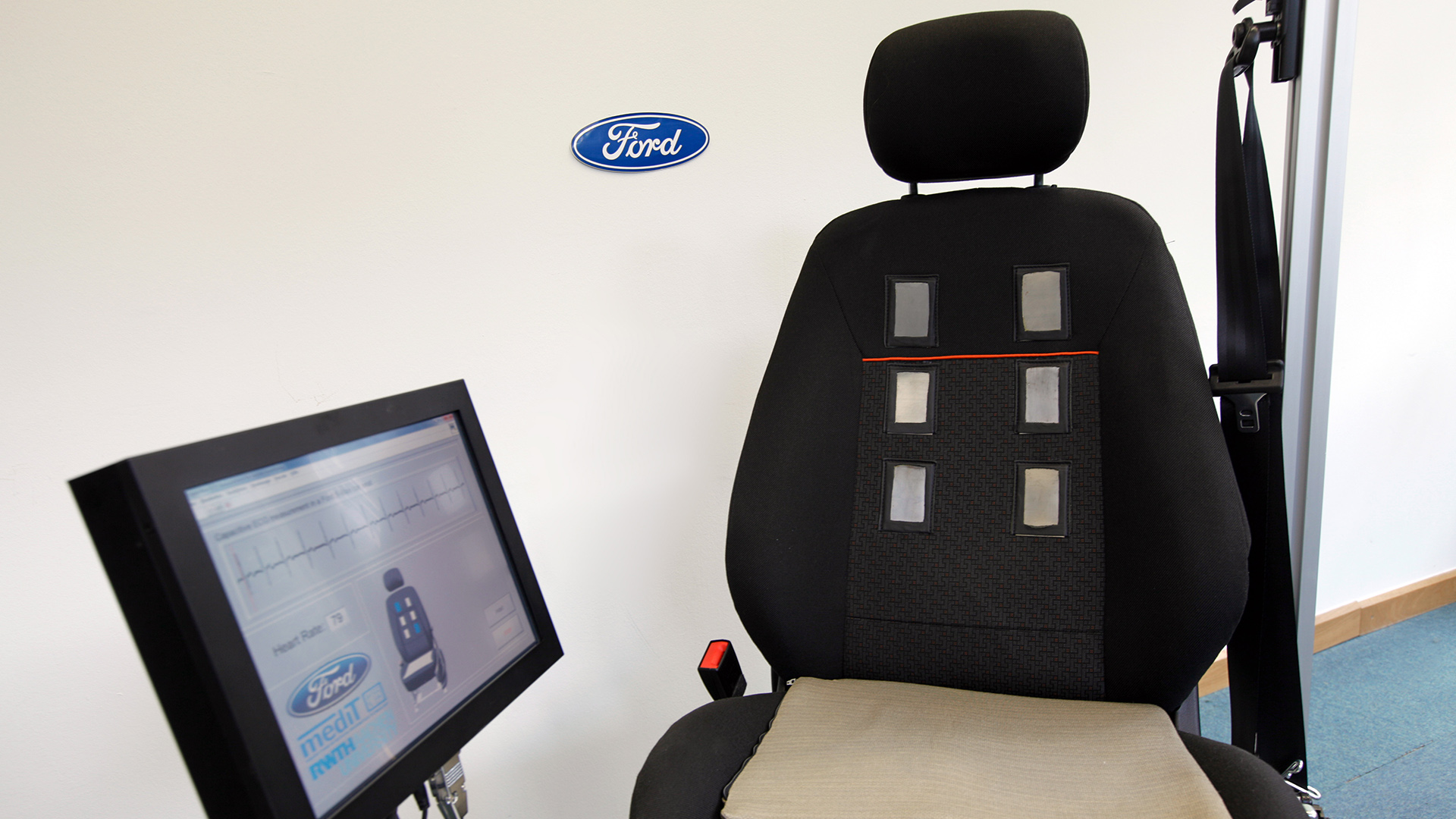 Imagine if simply sitting down in a car could replace fiddling with its controls. Smart fabrics use sensors to collect data that can be inputted actively or passively. Ford, for example, has researched embedding heart rate monitors in seatbacks (pictured) to monitor stress and potentially accident-causing health conditions. BMW has tested soft, polymer-based fibres that contain wires that respond to touch much like a touchscreen. They could someday allow passengers to input commands on their seat instead of reaching for the console. Further out, car seats could sense whether passengers' skin is cool or warm, and adjust the temperature accordingly. —SB
"Prior to 1938, everything we used was based on renewable, natural, found resources," said Sam Hudson, a materials expert at the North Carolina State University College of Textiles. But that changed in 1938, when nylon was commercialised. "That was the first totally first synthetic, petrochemical fibre."
Despite the growing range of options, leather remained as one of the most common options. While nylon and other synthetic textiles offered versatility and comfort, people perceived leather as luxurious — a status symbol, Hudson said.
Now, tastes are changing. Leather is so common in cars that it no longer feels exclusive. And nearly 1% of the UK follows a vegan lifestyle, according to a 2016 survey by The Vegan Society, which is up by more than 350% since 2006. Education about livestock practices and environmental stewardship is growing too, and that means an interest in alternatives to animal products. Even Rolls-Royce, whose leather team uses a dozen bovine hides to trim the interior of a single Phantom, recently unveiled a concept car with seating surfaces wrapped in ivory-coloured wool and silk upholstery.
Leather is so common in cars that it no longer feels exclusive.
Sam Hudson is part of a growing group of scientists returning to renewable resources for material development. The resulting textiles are slowly moving out of the lab and into the commercialisation phase, which means you could someday see them as an option at your local car dealer. Carmakers are searching for novel combinations of comfort, performance and good looks with, in many cases, a healthy dose of sustainability. Materials science has progressed to the point that you can make a truly luxurious synthetic fabric, or lend new qualities to tried-and-true options. Not that there's anything wrong with velour.
Artificial leather
Vinyl and related synthetic leather substitutes have maintained a reputation among car-buyers as a deeply downmarket upholstery material — something to be endured rather than enjoyed. Like leather, these materials tend to be chilly in the winter and sticky in the summer, with the addition of an unpleasant off-gassing smell. But as interest in leather alternatives grows, car makers are getting smarter. Toyota's SofTex material dries quicker than leather and beats it in some durability tests. Mercedes-Benz, BMW and Volkswagen also offer their own faux leathers that look surprisingly similar — and handily outperform — real leather. They are much cheaper (upgrading from Sensatec to leather on your BMW 228i Coupe will run you £800) and can often be treated with a leather smell for an even more convincing experience.
Carbon fibre fabric
Carbon fibre composite is the structural material of choice for supercar designers, thanks to its combination of low weight and high strength, and few carmakers employ this woven miracle material more liberally than Lamborghini. And in 2012, Lamborghini took its carbon fetish to a new level when it trimmed the cockpit of the one-off Aventador J roadster with a carbon composite fabric called CarbonSkin. Like the Aventador's structural and decorative carbon fibre bits, CarbonSkin is lightweight, strong, and, for now, stratospherically expensive.
Pineapple fibre faux suede
Each year the world produces around 25 million tonnes of pineapples. It turns out that their leaves — which would generally be a waste product — contain a strong, flexible fibre that can be turned into a convincing faux suede that is one-quarter the weight and two-thirds the price of real leather. Creator Carmen Hijosa calls the material Piñatex. The leaves currently come from the Philippines, where they are separated into fibre and biomass in a decorticating machine, and the former is formed into sheets (pictured top) via a felting process and treated with a waterproof coating. (The leftover biomass can be turned into fertilizer.) Hijosa's London-based startup, Ananas Anam, has worked with apparel designers to create Piñatex shoes, jackets, handbags and, yes, car-seat upholstery.
Silk fabric
Bovine hide has lost a bit of its lustre as a luxury material, as just about any car, from the lowliest to the loftiest, offers leather as a seat option. Silk, on the other hand, still maintains an air of breezy sophistication. In its range of Ermenegildo Zegna special-edition models, Maserati offers seats with interior trim created by luxury suitmaker. Despite its dainty looks, Maserati's silk is actually quite durable. It has historically been used in everything from clothing to parachutes and is comfortable in a wide range of temperatures.
Wool fabric
Wool, which is made from animal hair or fur, might not sound so up-and-coming. But materials designers are rethinking the fabric for modern applications. Swiss textile producer Climatex weaves wool with synthetic fibres in such a way that the two can be separated at the end of their lifetime, allowing them to be separately recycled or composted. The wool lends temperature control while the synthetic fibres extend the material's lifetime. Modern materials science allows for synthetic fibres to have nearly any quality, so giving seats long-lasting color and a pleasant texture are totally fair game. American textile company Lantal has already adapted the material for use one buses.
"We look around at nature and it's perfected a lot of materials like the silk fibre, the cellulose fibre," Hudson said. "I just don't think what we're doing today is going to be sustainable for the next 10,000 years without some major changes."
If you would like to comment on this or anything else you have seen on BBC Autos, head over to our Facebook page or message us on Twitter. And while you're at it, join the BBC Autos community on Instagram.
And if you liked this story, sign up for the weekly bbc.com features newsletter, called "If You Only Read 6 Things This Week". A handpicked selection of stories from BBC Autos, Future, Earth, Culture, Capital and Travel, delivered to your inbox every Friday.