In an age of Google Maps and GPS, paper maps sales are on the rebound
How did we manage to get from point A to B before GPS and navigation apps — especially when such journeys were long distances?
The first TripTik almost never happened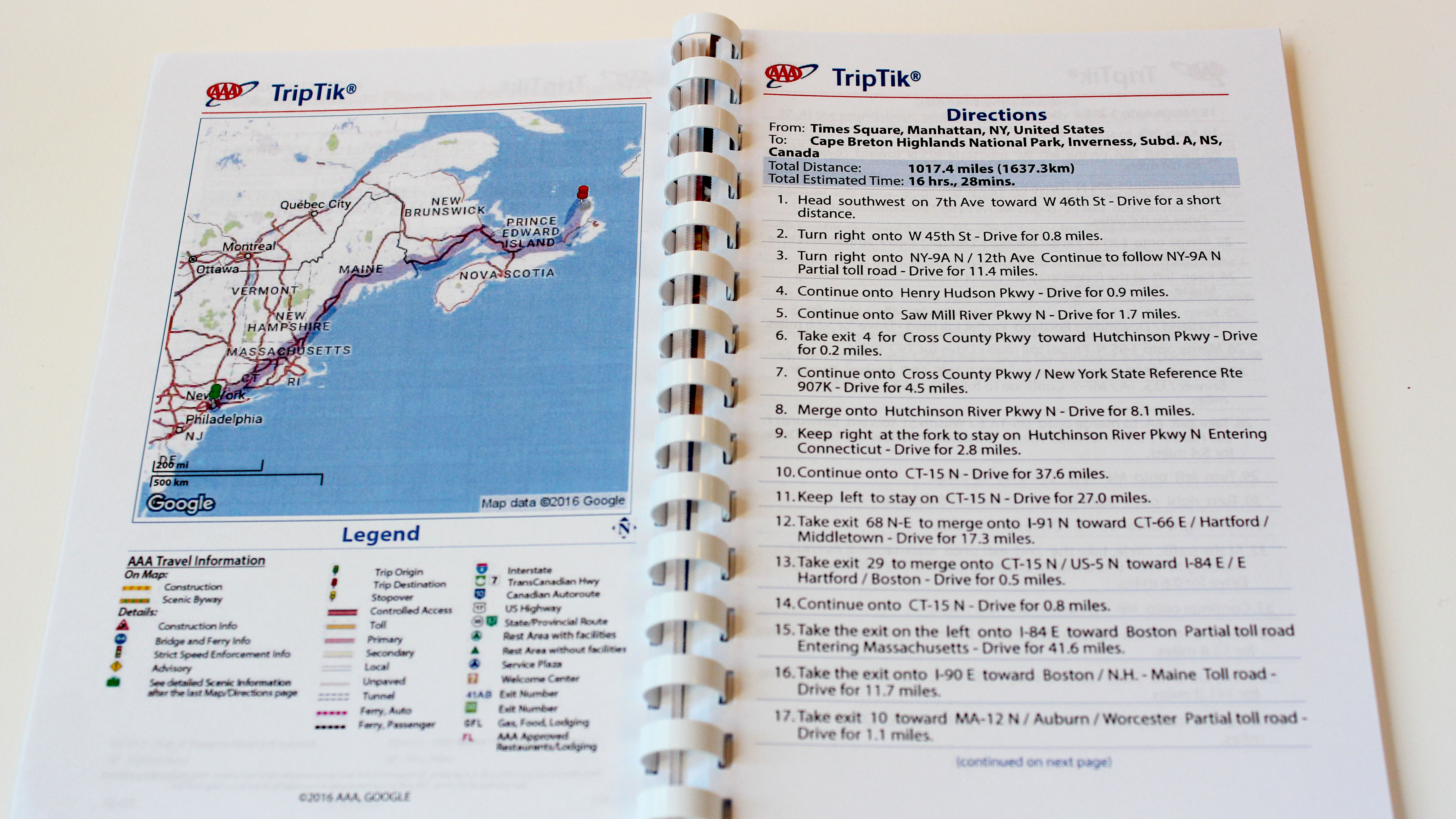 AAA has offered a stripmap product since the early 1900s, but the stacks of cardboard maps proved to be less than cost effective for the organisation, especially once the Depression hit. At the 1932 annual meeting of the National Touring Board Advisory Committee, AAA executives nearly decided to eliminate maps on a national level -- that is, until Cleveland's local AAA club manager, Meryl Allyn, spoke up.
Allyn's AAA branch had adopted a more hands-on approach to mapping, where counselors would mark out routes by hand in pencil, and then number the maps accordingly so that drivers could easily follow maps in a specific order. Most importantly, his "triptyques" were printed on paper rather than bulky, expensive cardboard.
"Everyone in the room said, 'We want that!'," explained Camarano, who dug up the minutes to the meeting in AAA's archives. Even so, the product still was not financially feasible, and Allyn's suggestion was rejected.
It wasn't until 1938 that the "triptyque" was finally endorsed by AAA's national office. By 1947, all local clubs dropped their own homespun mapping programmes and adopted what would become known as the TripTik, a product that would eventually become so popular that it grew to include about 1,000 maps spanning the US and Canada.
In sprawling, car-happy America, many motorists used TripTiks. Paper guides bound by plastic spirals, they were personalised trip planners, lovingly compiled by actual human beings who would take into consideration your personal tastes, sense of adventure, even your travel budget. It was, and still is, a service the American Automobile Association (AAA) gave to its members for free.
It was a blow-by-blow map and guide, tailor-made for your road trip. And it also gave scenic drive suggestions, construction warnings, food and lodging locations, and even off-the-beaten-path attractions, from pumpkin patches to kazoo museums.
You can probably guess where this is going: In the age of the internet, Google Maps, Wikitravel, digital mapping technology and GPS navigation, one could argue the TripTik, and other paper guides of its ilk, are dead.
But in fact, the TripTik has never been more popular. And that's indicative of bigger trends happening across the world that are flying in the face of the digital publishing revolution that's sapped the life force of paper books, newspapers and magazines for over a decade.
How car-crazed America started craving road maps

The great American road trip is stuff of legend. Having a car and journeying across the over 4,000km-wide country is one of the nation's cultural touchstones. Ask any millennial-or-older American how his or her family navigated their way from, say, Milwaukee to Orlando, and you'll likely learn that any road trip began with a stop at the local AAA branch.
There, a TripTik technician would have collected a stack of maps and drew — from memory! — the exact route you'd need to follow in neon highlighter, noting amusement parks, scenic byways, public toilets, restaurants and historic attractions along the way.
AAA, founded in 1902 to deal with rising automobile-related issues such as poor roadway quality, was also instrumental in the development of roadmaps.
I was Google before Google." In truth, he was also TripAdvisor before TripAdvisor, and he was Yelp before Yelp, too.
By the early 1900s, car ownership was in full swing, and AAA's maps were drawn specifically with car drivers in mind.
Sure, rudimentary maps existed at the time, but they weren't much help to the growing number of drivers hitting the road — about 23,000 automobiles were registered in the US. AAA's first maps were large cards depicting certain regions with "good roads" for motorists marked in red.
It wasn't until 1937 that TripTiks as many American drivers know them — those spiral-bound notebooks filled with colourful maps — were introduced. They were compiled and customised by highly trained travel technicians who marked entire routes from start to finish in vibrant neon highlighter, all while viewing the map upside down (which was necessary, of course, so the customer sitting opposite the technician could see the map right-side up).
Mike Camarano was one of those technicians in the 1970s, working part time while pursuing a degree in geography. When he first began building TripTiks for AAA clients, Camarano was assigned routes that were relatively simple to navigate — the clear-cut drives that involved popular destinations and straightforward "master routes", which technicians were expected to memorise. After he got the hang of the more basic trips, he started marking routes for more complicated trips for clients with adventurous tastes.
"I was Google before Google", said Camarano. In truth, he was also TripAdvisor before TripAdvisor, and he was Yelp before Yelp, too.
One of the most frequently requested trips he mapped out was to Niagara Falls, Camarano recalled. "There must be something in the water in Rockville, Maryland, that people wanted to go to Niagara Falls," he said with a chuckle. "Most people who came in for Niagara Falls trips were very single-minded about it. That was their destination. The other route — if I sensed anyone was interested — was straight up the gut, up [Interstate] 83 through Harrisburg [Pennsylvania] and up [New York State Route] 15, through the Finger Lakes."
Camarano held a number of other jobs at the auto club, including road reporter. He was responsible for driving for months at a time, documenting road conditions and reporting back to the office — a job that was unique to the organisation and to the time period, a sort of mix of travel agent and cartographer. He even specialised in gas, food and lodging for a spell. At one point in his career, Camarano's job was "to get off at every exit to see what sort of amenities were offered", log all the info and report back his findings to the central office.
If you rely too much on Siri to get to a place, you lose the ability to get around.
Today, unlike most travel apps and sites that depend solely on crowd-sourced reviews, AAA still relies on professionals to scope out destinations and the many roads and amenities along the way. "AAA is the only entity in North America using trained professionals to apply consistent criteria in evaluating hotels and restaurants based on consumer preferences," explained AAA Public Relations Manager Julie Hall.
Both Hall and Camarano appreciate the value in new travel technology, particularly the importance of customer ratings and reviews, but even with today's technology, Camarano still turns to paper maps and TripTiks for trip-planning guidance.
"If you rely too much on Siri to get to a place, you lose the ability to get around," he said. "I worry about that."
If you can't beat 'em, join 'em
In 1994, AAA gave members the option to order TripTiks online. By 2000, members could plan their own routes on the internet.
In 2015, a mere 3% of TripTiks were routed by hand in local clubs, so AAA's national representatives decided it was time to put the classic hand-highlighted paper TripTiks to bed. At face value, the TripTik seemed all but dead.
And yet? July 2016 was the most popular TripTik month in AAA's history, issuing 2 million TripTiks to members in a single month.
Of the 2 million routings, about half of them were physical paper TripTiks ordered online, and the other half are completely digital routes generated by customers using the online mapping tool or mobile app.
This development is a stark outlier in consumer habits amid rapid digitisation that's been crippling traditional print media. And it's a development that isn't limited to the 114-year-old AAA.
The rebound of paper maps' popularity

Last year, the UK's Royal Institute of Navigation conducted a survey that revealed map-reading skills have sunk among consumers, as smartphone apps and digital mapping have become much more popular. And for a time, paper maps — like many paper products, like books and magazines — experienced a sharp fall in sales.
Britain's mapping agency, reported a 7% increase in paper map sales from 2014 to 2015.
But now? Paper map sales experienced a boost in 2014 after almost a decade of straight decline. Ordnance Survey, Britain's mapping agency, reported a 7% increase in paper map sales from 2014 to 2015, which undermines the gloomier trends that have come to characterise the modern publishing industry.
Those recent consumer habits could help explain on a global scale the fondness for paper maps, atlases and travel guides, and those prepared by humans, for humans. And the organisations behind these quaint alternatives must come up with means of differentiating from Google Maps. Paper or digital TripTiks, for example, offer routes for scenic byways and worksheets for expense reports, which isn't something that is included in the standard Google Maps.
But some of those features were so helpful to drivers that even Google Maps proper changed its offerings, said Bill Wood, AAA's executive editor and vice president for travel info and content publishing. In fact, the two organisations have decided to collaborate.
For example, sometimes you want to plan trips well in advance. For the longest time, Google could not account for travel trends at certain times of year in some climates. "So some of the members would try to get a routing into a national park for summer in winter, but Google would account for snow and not allow drivers to make route," Wood explained. In working with AAA, Google Maps identified this planning flaw and added travel date options.
At the end of the day, print products aren't as popular as they once were, but digital technologies haven't fully replaced them either. For many travellers, like Camarano, physical maps allow for spontaneity. Complete smartphone dependence, on the other hand, leaves little room for exploration -- and that's not ideal for those who value the journey as much as the destination.
"There's a whole big beautiful world outside of your little cell phone there," Camarano said. "Eventually people are going to get the idea that they need to look up and look around."
If you would like to comment on this or anything else you have seen on BBC Autos, head over to our Facebook page or message us on Twitter.
And if you liked this story, sign up for the weekly bbc.com features newsletter, called "If You Only Read 6 Things This Week". A handpicked selection of stories from BBC Autos, Future, Earth, Culture, Capital and Travel, delivered to your inbox every Friday.