8 June 2014
The supecharged 6.2-litre V8 in the 2015 Z06 produces a not-inconsiderable 650 horsepower. Read more...
Joyride | 1 May 2014
With a sub-7:40 lap time around Germany's Nürburgring, the track-focused Z/28 is a $75,000 sledgehammer that also makes a good scalpel.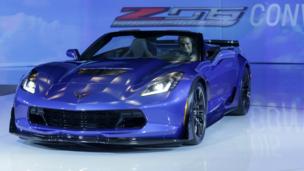 16 April 2014
The automaker, embroiled in a massive recall action, tried to refocus attention on its products in New York. Read more...
13 January 2014
A higher-performance model, revealed at the 2014 Detroit auto show, builds on the sports car's newfound agility and refinement. Read more...