16 April 2014
The onetime upsetter to the mid-size sedan order has dialled back the brashness for 2015. Read more...
Review | 17 April 2013
Surprising levels of refinement complement class-defining value. Hyundai's crossover is a compelling alternative to rivals from Toyota, Honda and Ford.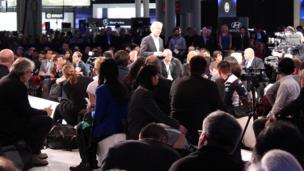 28 March 2013
The Korean brand played it personal, inviting journalists to gather round for what little product news it had to share. Read more...
15 January 2013
Fined for misleading buyers on its fuel-economy estimates, the Korean automaker tried to steer the dialogue toward a new concept, the HCD-14. Read more...