19 November 2014
Mulsanne-based cabriolet takes its bow in Los Angeles with some wonderfully excessive styling flourishes. Read more...
The Roundabout Blog | 3 October 2014
Though it only comes every two years, the Paris motor show is where carmakers try to reveal their most beautiful designs of the year.
3 October 2014
The gasoline-electric concept, which made its debut at the 2014 Paris motor show, signals a new, cleaner chapter for the Italian supercar-maker. Read more...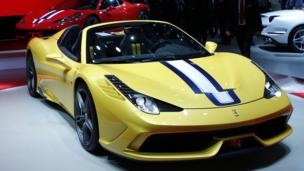 3 October 2014
The already special Speciale loses its roof, gains very yellow paint, for its global debut. Read more...