The Roundabout Blog | 19 November 2013
One is a reclamation of off-road aesthetics. One is a bespoke toy for gentleman hunters. Two distinct ways to skin the same slick rock.
28 October 2013
Behold, the £140K long wheelbase version of the world's poshest SUV. Is this the ultimate luxury limo? Read more...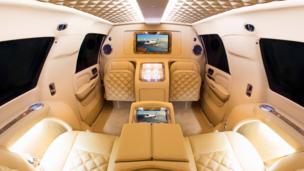 The Roundabout Blog | 8 October 2013
Carisma Auto Design unveils a bespoke interior trim that gives the burly American SUV a dose of Savile Row swagger. Read more...