3 March 2015
The purely electric 4x4 "challenges convention", according to the builder of high-powered grand tourers. And how. Read more...
The Quora Column | 19 February 2015
Armoured tank? Electric car? Horse? Quora.com users weigh in with their picks.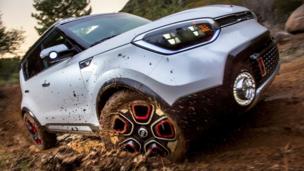 13 February 2015
The all-wheel-drive concept was joined with revisions of popular models such as the Chevrolet Equinox, Honda Pilot and Acura RDX. And a surprising Mitsubishi. Read more...
Icons and Innovators | 4 February 2015
With its replacement uncertain, the proto-SUV is being held a bit tighter by its fervent fans, writes Brendan McAleer. Read more...