On 8 November 2016, presidential candidate Donald Trump defied critics and pollsters alike with a surprise election win.
Many voters hoped a political outsider would boost their job prospects and revive embattled industries – so one year on, how do US workers feel about the future of their jobs and industries?
BBC Capital commissioned pollsters SmithGeiger to survey 2,060 people across the US, asking whether they felt more or less optimistic about their job prospects a year after the election.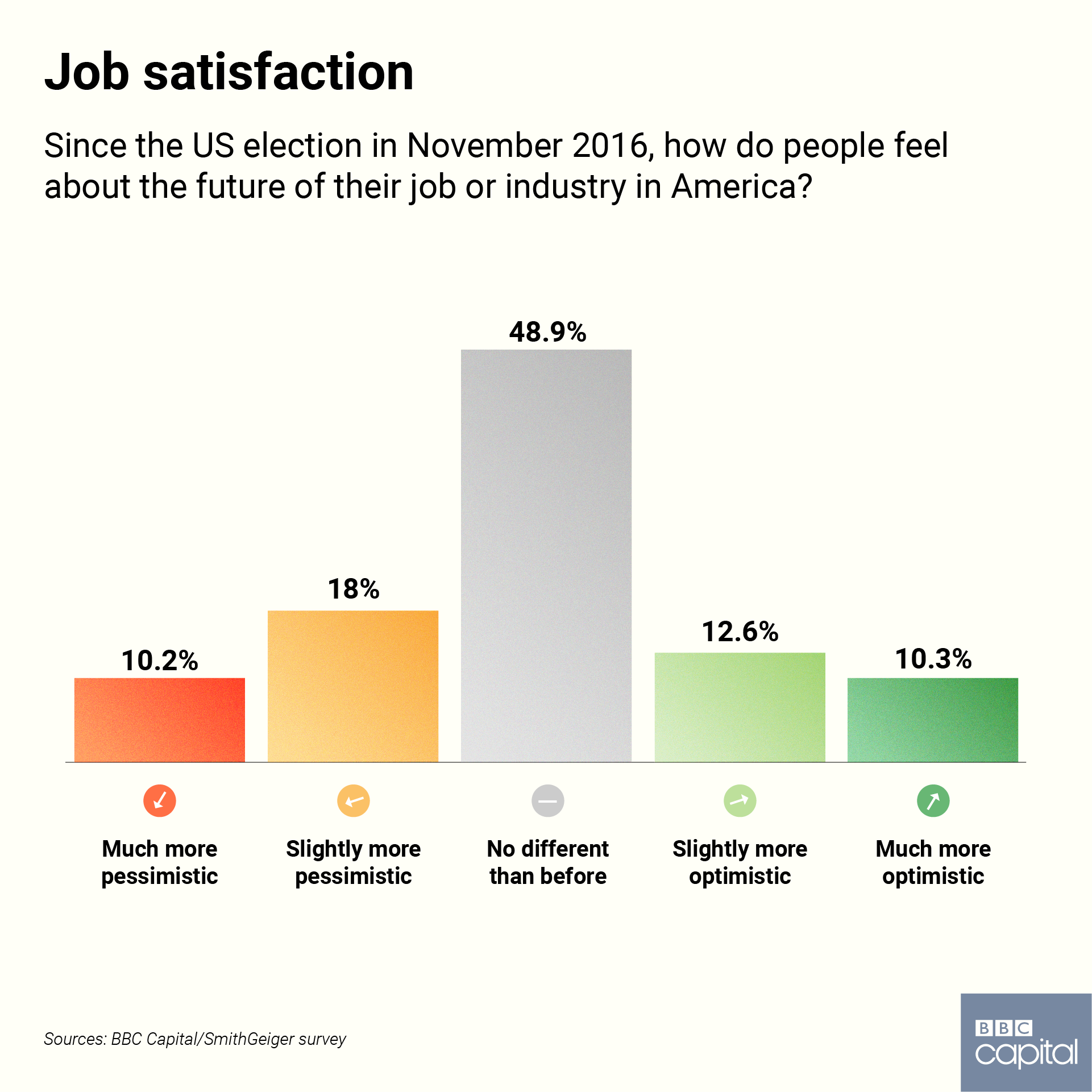 We found that almost half of adult Americans do not feel any different about the future of their job since last November's election, with fairly equal portions optimistic and pessimistic about the direction of their employment situation. Given a tumultuous year in which economic conditions in the US flourished at the same time as the Trump administration struggled to win over the American public, the stability of individual perceptions about their jobs and industries may seem surprising.
Key economic indicators such as employment rates, wage levels and the stock market have performed well during Donald Trump's first year in office. Unemployment has fallen to a 17-year low rate of 4.1%, average hourly wages have risen by 2.8% in the past year and the S&P 500 is up 21% since the election. It is worth putting these figures into context: all of these indicators continue trends that were already in place under President Barack Obama, where the stock market and wages were rising and unemployment falling.
But most polls have shown the American public to be pessimistic about the direction of the nation as a whole. For example, a recent Economist/YouGov poll found 60% of Americans think the nation is on the wrong track, compared to only 27% that feel America is headed in the right direction. The same poll at the end of January found 52% of Americans were pessimistic about the nation's path, compared with 35% optimistic about the trajectory of the country. This rise in pessimism may be linked to President Trump's disapproval ratings, which have risen by 10 points over the year.
The juxtaposition of positive employment measures and negative perceptions of the nation's future complicates expectations for how Americans may evaluate the outlook for their jobs and industries.
Indeed, the large portion of Americans who don't feel differently about the outlook for their careers since Trump's victory may reflect the conflicting relationship between generally positive employment and economic performance and broader pessimism about the direction of the nation.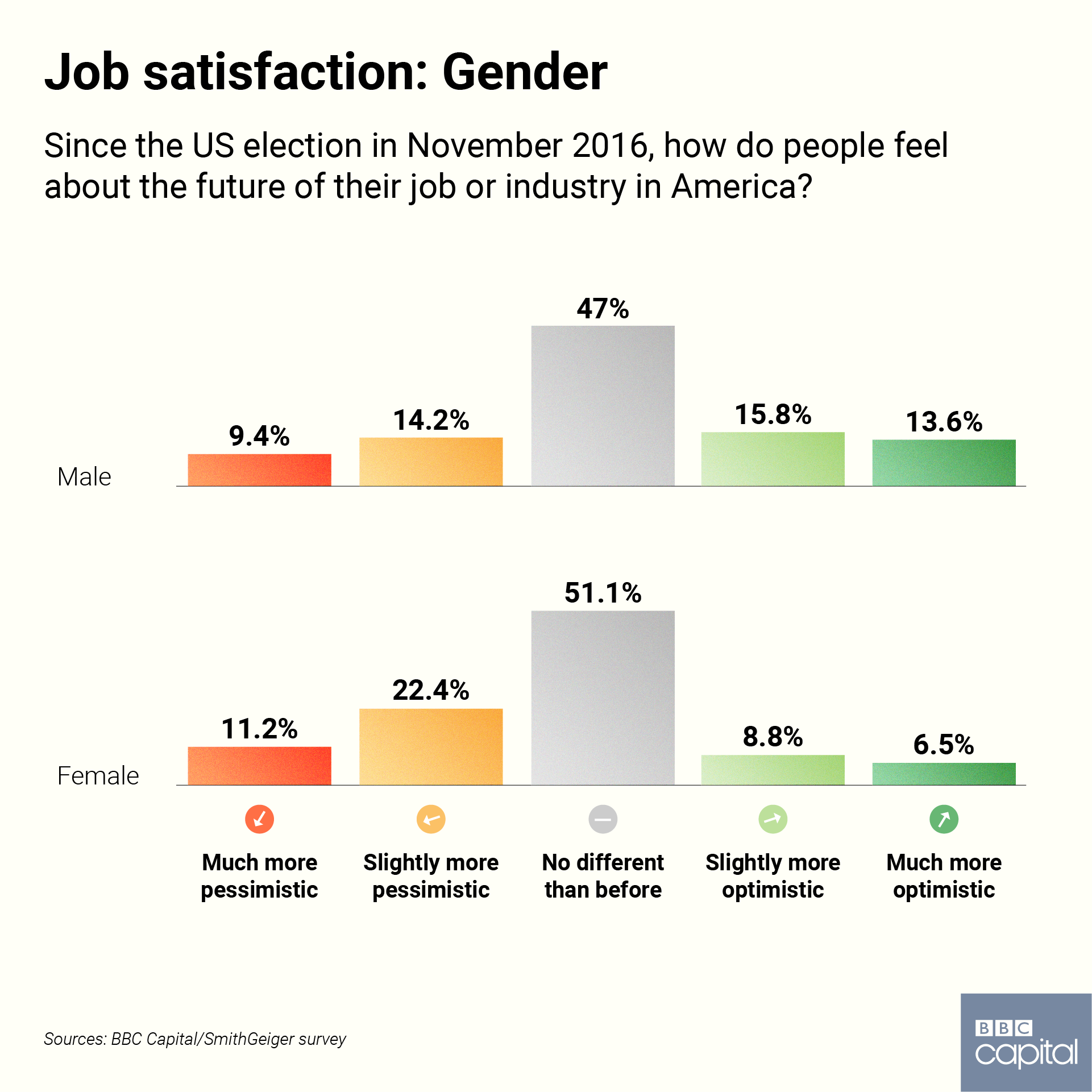 As is often the case, workers' perceptions of their jobs and industries are affected by their personal characteristics. American men were twice as likely as their female counterparts (30% to 15%) to be more optimistic about the future of their jobs since Donald Trump's election. The confluence of long-standing gender inequities such as a significant pay gap between women and men play a part, but significant tensions between many American women and the Trump administration could also be a factor in the low levels of optimism among women regarding their careers.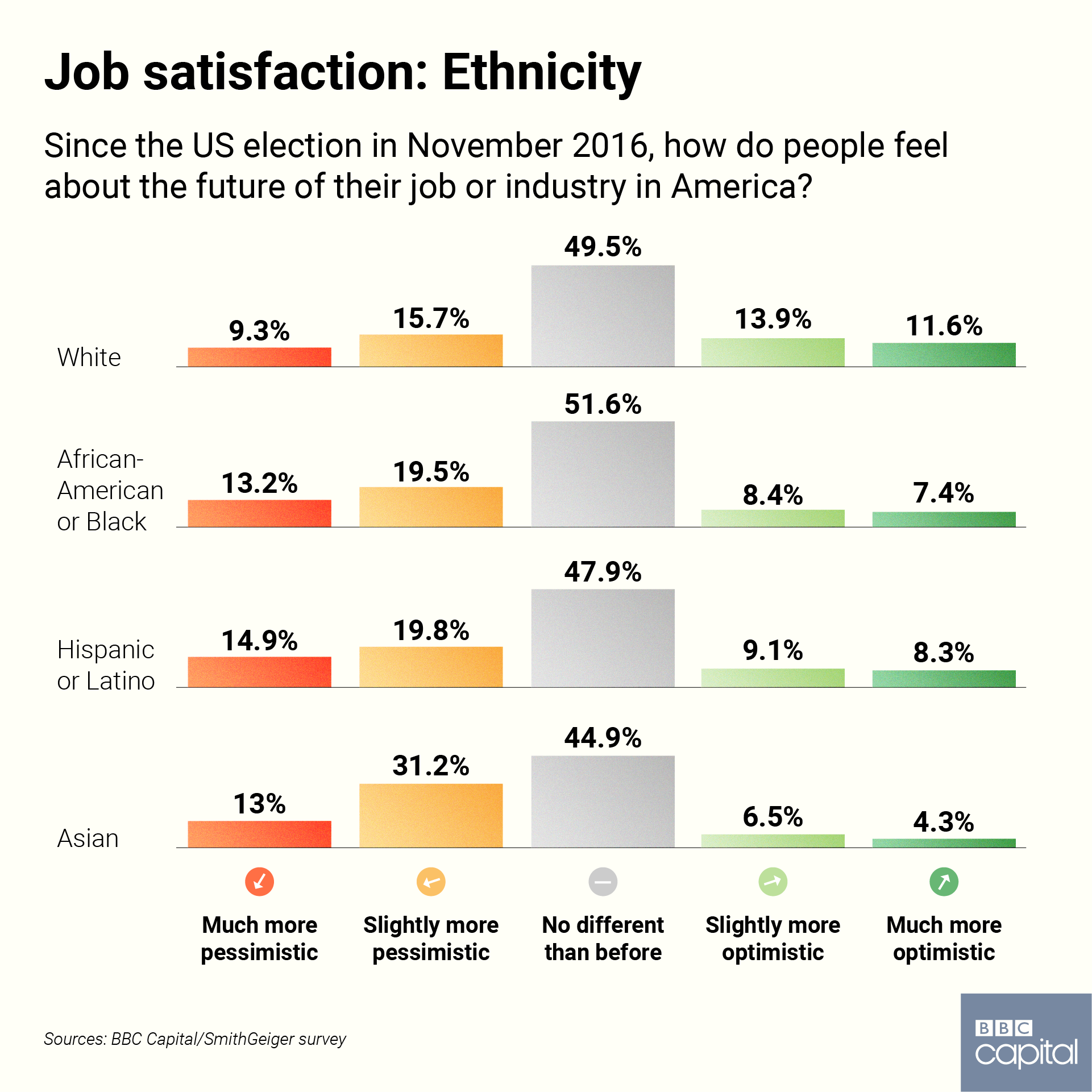 Similarly, white Americans express greater optimism about their employment futures than other racial and ethnic groups. The increased racial tensions that have marked Trump's first year in office and perennial wage gaps between different ethnic groups will likely have contributed to elevated levels of pessimism among minority populations.
Among white Americans there were roughly equal percentages of people feeling optimistic or pessimistic, but we saw the trend swing more towards pessimism with other ethnic groups.
The most noticeable swing towards pessimism versus optimism was seen among Asian-Americans, a group that has experienced strong levels of economic success in recent years. The Trump administration's policy positions on trade and national security in relation to Asia may be causing a general unease within this fast-growing cohort of Americans.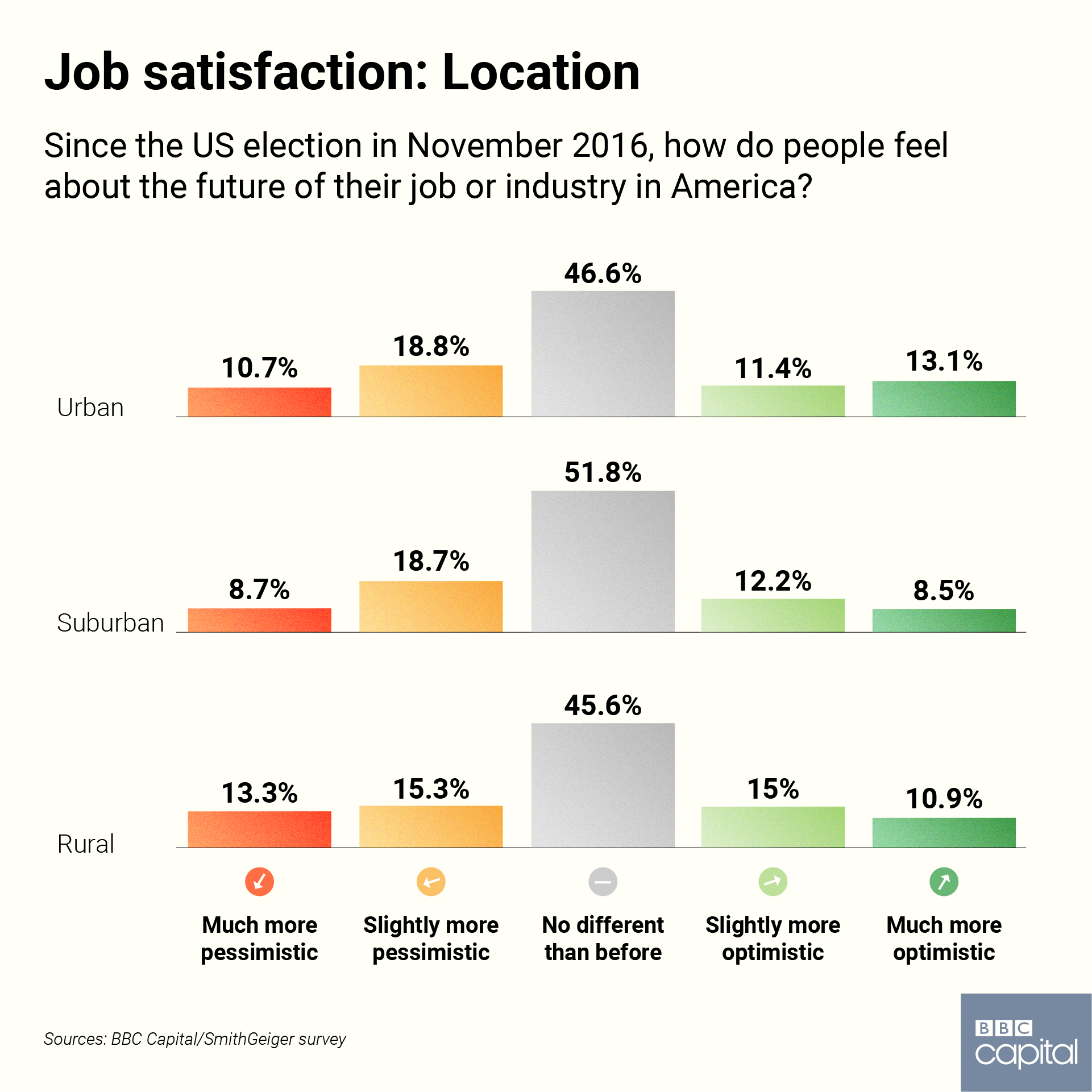 Donald Trump's 2016 victory is often attributed to his ability to energise rural voters with promises to bring jobs back to the small towns and rural areas of America, and he has often highlighted announcements from companies that have expanded or relocated in rural regions.
But the survey results suggest that rural Americans are not significantly more optimistic about the future of their jobs than those in the suburbs or the cities.
The limited optimism among rural Americans may reflect the entrenched economic impediments that rural communities often face. President Trump has certainly promised to revitalise these communities but the difficult realities of economically transforming these areas may be tempering optimism among rural Americans.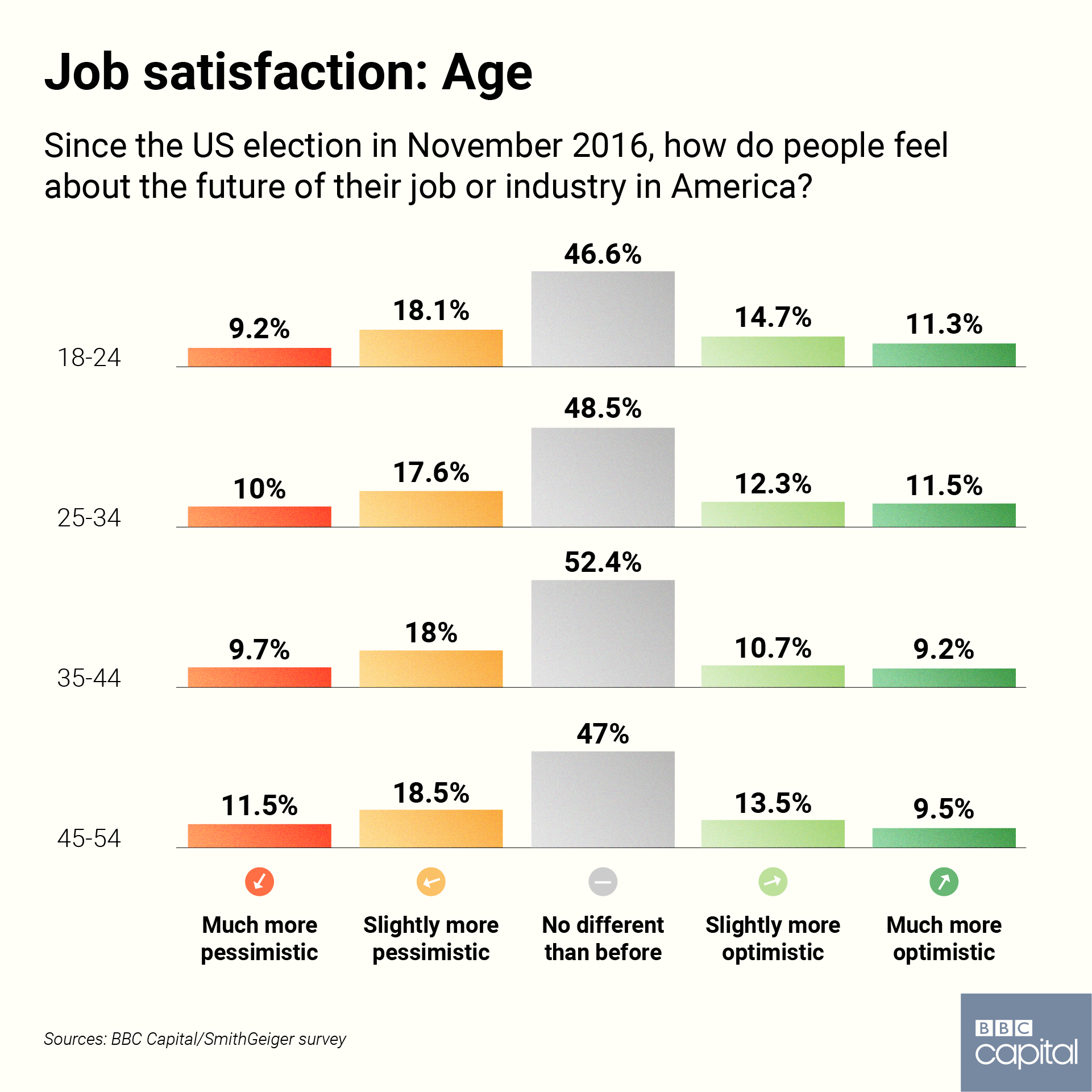 Unlike its effect on many aspects of life, age does not seem to be a potent factor in explaining one's career outlook. There is very little variation across generations of Americans regarding the future of their jobs and industries. Notably the survey did not include a segment for older workers, age 55 and above, and thus potential differences in this age group were not examined.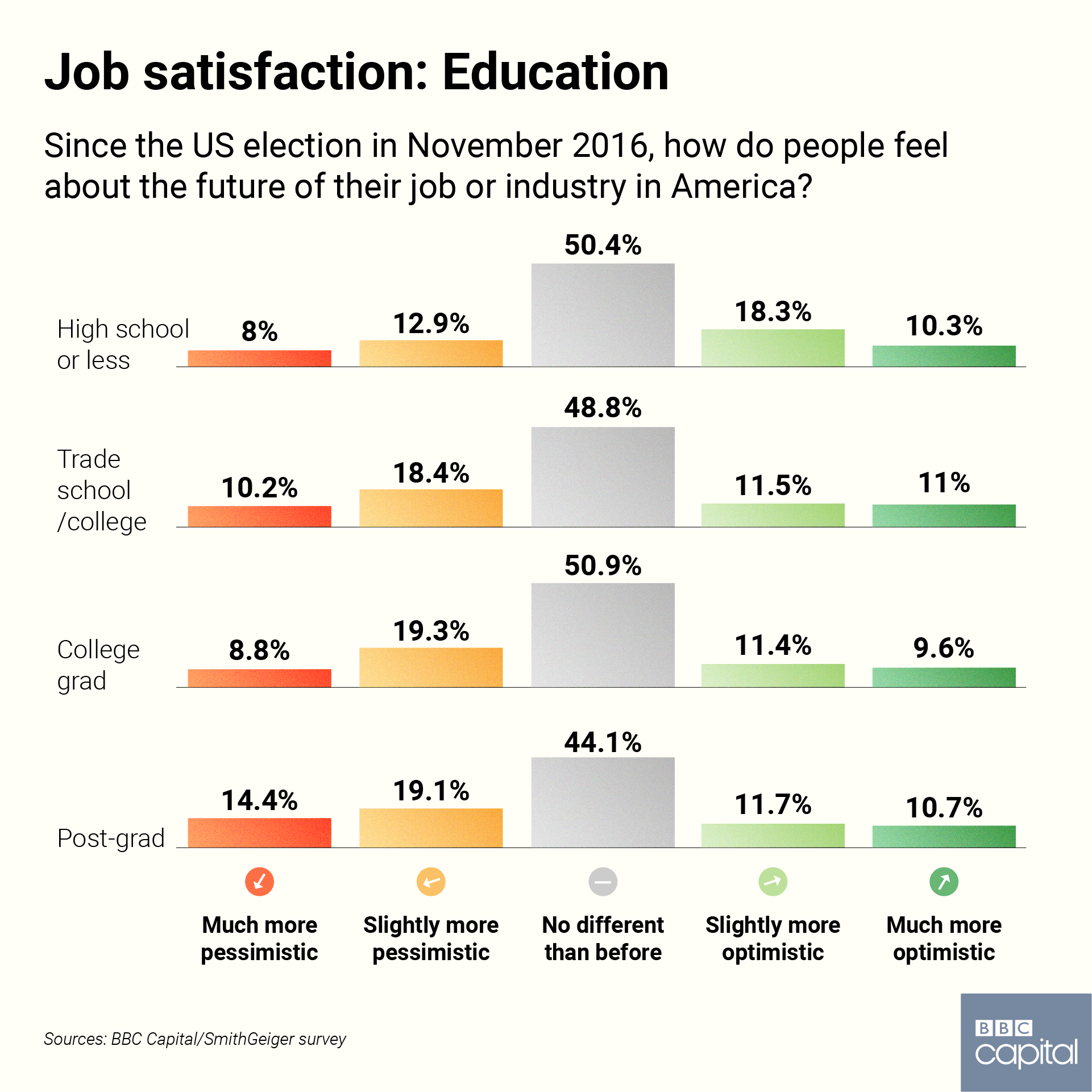 Trump also performed very well among Americans with lower levels of educational attainment in his 2016 victory, winning a majority of voters with no more than a high school degree while losing a majority of Americans with a university degree or more formal education. The survey results indicate that less-educated Americans are modestly more optimistic than those with a bachelors or graduate degree.
President Trump's focus on areas such as manufacturing and mining, which tend to employ more Americans with lower levels of educational attainment, may be buoying optimism among this group. Conversely, the Trump administration's tense relationship with tech giants such as Apple, Google and Amazon may be raising concern among more highly educated Americans working in these industries.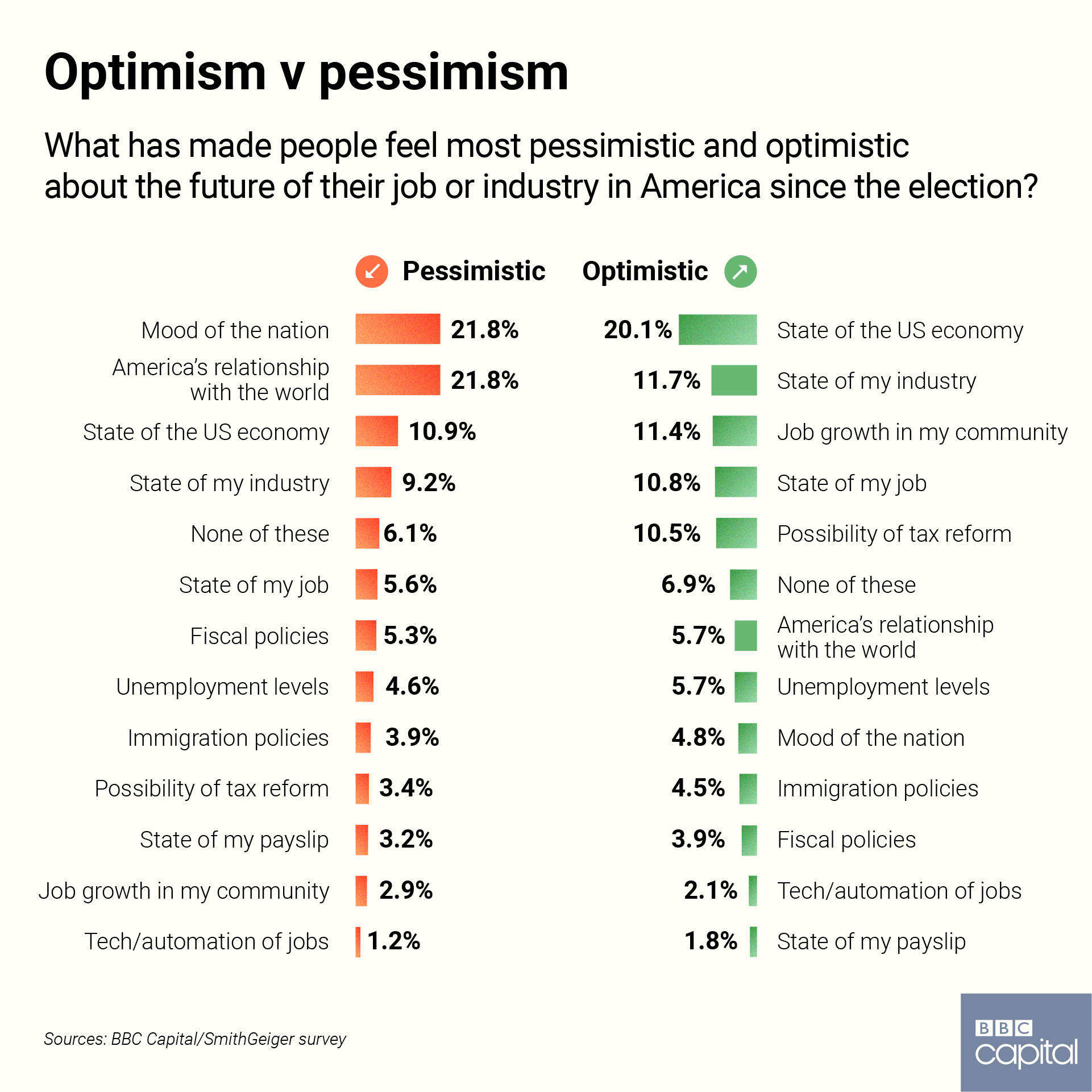 For the nearly one in four Americans who feel more optimistic about the future of their jobs, the economy and the performance of their own industry were the most commonly noted reasons behind the optimistic appraisals. A significant portion of those optimistic about the future of their jobs also cited the possibility of tax reform as a key reason for their positive outlook. With both the White House and Congress pushing forward on what potentially could be America's most comprehensive tax reform since the Reagan years, segments of the workforce are banking on decreased tax burdens to grow many industries.
For those pessimistic about the future of their jobs and industries, non-economic factors played major roles – in particular, America's relationship with the world and the mood of the nation. President Trump's decision to pull the US out of the Trans Pacific Partnership (TPP) and his desire to renegotiate the North American Free Trade Agreement (Nafta) has caused considerable consternation among many business interests in the United States and could also drag down optimism for the future of some jobs and industries.
In all, the very positive macroeconomic performance measures of the American economy during President Trump's first year in office do not appear to have translated into widespread optimism among Americans about the future of their jobs.
While levels of pessimism are certainly not high, it doesn't seem the robust economic conditions are resonating with people in the way one might expect.
Concerns about the broader direction of the nation and America's relationship with other nations appear to be muting the impact of strong economic performance on American perceptions about their jobs and industries in upcoming years.
Christopher Borick is a professor of political science and director of the Muhlenberg College Institute of Public Opinion.
To comment on this story or anything else you have seen on BBC Capital, please head over to our Facebook page or message us on Twitter.