BBC Culture picks nine films coming out next month, including Ex Machina, the Avengers sequel and Russell Crowe's directorial debut.
From novels to collections of essays and short stories, the month brings a literary bounty. These titles should sit on your shelf, writes Jane Ciabattari.
A new exhibition in Vienna brings together provocative images of the bed – a piece of furniture that features in key moments in life, from conception to death.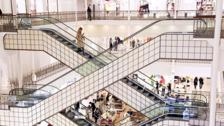 From Victorian London to Soviet-era Moscow, department stores have changed the way we shop and influenced culture around the world, writes Jonathan Glancey.