3 March 2014
Dior, Givenchy, Celine and Roland Mouret show strong, innovative collections as Paris Fashion Week hits its stride. Read more...
Wardrobe Decoder | 24 February 2014
Blondie's frontwoman has inspired generations with her singular style. Wardrobe Decoder's Katya Foreman takes a closer look.
21 February 2014
Kitsch galore at Moschino, plus elegant tailoring and pure glamour at the Autumn/Winter catwalk shows in Italy's fashion capital. Read more...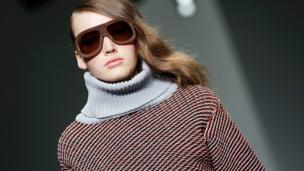 19 February 2014
One of the world's foremost fashion bloggers, Susie Lau, rounds up the key trends from the shows in the UK capital for BBC Culture. Read more...