Children run more slowly than their parents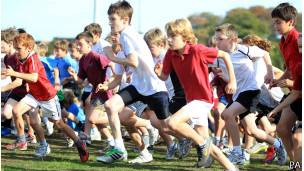 Belajar bahasa Inggris melalui berita BBC tentang kondisi kesehatan anak dibandingkan orang tua dan IKEA yang didakwa memata-matai pegawai dan pembeli.
Children run more slowly than their parents
A study of millions of children around the world has found that many cannot run as fast or as far as their parents did when they were young.
Australian researchers looked at data from more than 25 million children in 28 countries.
They discovered that, when running a mile, today's children were about a minute and a half slower than their peers 30 years ago.
The authors of the study said obesity played a role.
They warned that by not getting enough of the right exercise, young people could be storing up future health problems.
Anak-anak berlari lebih lambat dibandingkan orangtua mereka
Penelitian tentang jutaan anak di seluruh dunia menemukan bahwa banyak dari mereka yang tidak bisa berlari secepat orang tua mereka saat masih muda.
Para peneliti Australia melihat data dari lebih 25 juta anak-anak di 28 negara.
Mereka menemukan bahwa saat berlari sejauh satu mil anak-anak jaman sekarang 1,5 menit lebih lambat dibandingkan anak-anak seumuran mereka 30 tahun lalu.
Penulis penelitian itu mengatakan bahwa masalah kelebihan berat badan berperan penting.
Mereka memperingatkan bahwa tanpa olahraga yang tepat dan cukup anak-anak muda bisa memiliki masalah kesehatan di masa depan.
IKEA bosses charged with spying on staff and customers
Two senior executives of the Swedish furniture retailer, IKEA, and its former head, have been charged with spying on employees and disgruntled customers at stores in France.
The company's chief executive in France, Stefan Vanoverbeke, his predecessor Jean-Louis Baillot and the chief financial officer, Dariusz Rychert, were arrested on Monday in connection with claims that last year IKEA illegally obtained information from police files on more than 200 people.
The scandal erupted after a company insider leaked emails to a newspaper showing that IKEA had paid private detectives to obtain reports from the national French police database.
Bos IKEA didakwa memata-matai pegawai dan pembeli
Dua pejabat senior perusahaan mebel Swedia, IKEA dan mantan kepalanya didakwa telah memata-matai para pegawai dan pembeli yang tidak puas di sejumlah tokonya di Prancis.
Kepala eksekutif perusahaan itu di Prancis, Stefan Vanoverbeke, pendahulunya, Jean-Louis Baillot, dan kepala keuangan, Dariusz Rychert ditahan pada hari Senin terkait tuduhan bahwa tahun lalu IKEA secara ilegal mengumpulkan informasi mengenai lebih 200 orang dari berkas kepolisian.
Skandal ini terkuak setelah orang dalam perusahaan membocorkan surat-surat elektronik kepada sebuah surat kabar yang menunjukkan bahwa IKEA telah menyewa sejumlah detektif swasta untuk mengumpulkan informasi dari pusat penyimpanan data kepolisian nasional Prancis.