Boom times as holidaymakers choose Scottish waters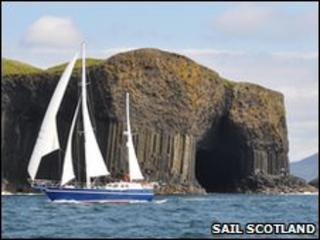 The Scottish Boating Alliance is lobbying MSPs on the benefits the leisure activity brings to the economy. BBC Scotland's Rouqqia Hussain examines the growing popularity of sailing in Scottish waters.
A year ago Jane Sewell decided to sink her savings into buying a boat and becoming a skipper.
Together with her husband Richard, she set up skippered yacht charter company Coastlight, which sails in the Hebrides and Small Isles.
Now the books are filling up with holidaymakers attracted by the chance to learn technical skills in the exposed sea around the west of Scotland.
"It's hard work, but the rewards come from doing something I love," Mrs Sewell says.
Charmian and Mark Entwistle gave up their jobs as a hospital office administrator and civil engineer 12 years ago to start a sailing business.
The husband and wife team have never looked back, and now have 10 boats in their Isle of Skye Yachts fleet.
Mrs Entwistle says: "There's a lot of standards to be met to run the business but it's tremendously exciting to give people good holidays; seeing wildlife and eating fresh local produce."
Busiest year
Scotland has long attracted visitors to its golf courses, which are famous around the world.
What is less well known is that it is also a prime sailing destination, bringing in revenue which rivals that generated on the fairways.
Sailors seeking more thrilling waters than those of the Mediterranean added about £53m to the Scottish economy last year, according to a recent Scottish Enterprise study.
The sail and power boat cruising tourism sector alone is worth about £101m a year and supports more than 2,700 jobs.
This could grow by £44m to £145m over the next decade, the report said.
However with occupancy rates currently running at 95%, it also pointed out the number of berths and moorings needs to increase by more than a third.
Sailing and golfing tourists tend to be those seeking a high-end holiday and come mainly from France, Germany and Scandinavia.
A significant number of sailors from the south of England berth their boats in Scotland during the winter season.
In response to the growing popularity of sailing in Scottish waters, tourism body VisitScotland has invested more than £70,000 into promoting the activity to neighbouring countries.
New marinas at Inverness, Wick, Orkney and Shetland have been set up to form a Viking Trail, which sailors can voyage round.
Countryside hotels, restaurants and adventure centres have all benefited from sailing enthusiasts during this recession.
The weak pound attracted continental buyers to the second hand boat market, resulting in chartered boat companies having their busiest year ever.
However it remains to be seen how the tourist industry will fare over the next few seasons, with uncertainty over whether the value of the euro will fall this summer.