Reward over Alan Wood murder reaches £60,000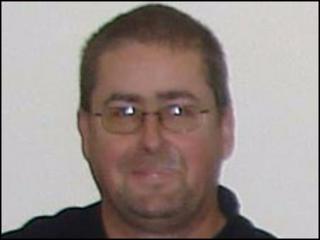 A reward offered over the torture and murder of a Lincolnshire man has been increased to £60,000.
Alan Wood, 50, of Lound near Bourne, was attacked and killed in his home last October for his bank cards.
Despite the release of CCTV images of a suspect, and the case featuring on Crimewatch, no one has been charged.
As the reward was tripled, officers said he was subjected to "unheard of" violence.
Officers have said Mr Wood, who lived alone in a small bungalow in a remote area, had no known enemies and described him as a "gentle, kind and well-liked" man.
He was last seen alive at about 1830 GMT on 21 October at his local pub, the Willoughby Arms in the nearby village of Little Bytham.
Detectives have now revealed that Mr Wood was repeatedly stabbed in the head, possibly as a method of torture to get PIN numbers for his cards. After his death, his body was subject to more mutilation, including an attempt at decapitation.
His bank cards were used, possibly by the murderer, in the nearby towns of Bourne and Stamford several times between 22 and 25 October.
Police have secured a DNA profile of the suspect and are planning an "intelligence-led" swabbing programme both in the UK and abroad.
Additionally, they found a print of a Converse trainer, which is believed to have been worn by a suspect.
Det Supt Stuart Morrison said: ""I want everyone to be clear how horrific and shocking a crime this is.
"This level of violence is unheard of in Lincolnshire. We now want the public to reassess what they know in light of this extra information.
"Think particularly about the profile of the offender we have built up. We are convinced that someone living in this county, or potentially in Cambridgeshire or other neighbouring counties, knows who this man is."