Sale couple's £12m Euromillions win 'one of many'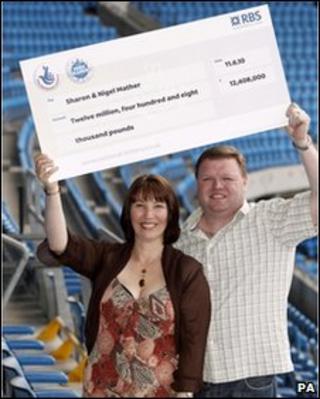 A couple from Greater Manchester who won a £12.4m EuroMillions jackpot have said it was one of many recent wins.
Not only did Nigel and Sharon Mather scoop the top prize on Friday, they won £10 on the National Lottery, £20 on a scratchcard and a £25 Premium Bond.
They only realised they had become millionaires when they came home from a caravan holiday on Sunday.
Mrs Mather said they had been "chosen to win" and "would use the money wisely to help our friends out".
The Sale couple, who have two young boys, were on holiday at a caravan park in Minehead, Somerset, with sons Rhys, four, and Lewis, one, when they bought the Lucky Dip ticket at Alcombe Newsagents in the town.
They said it was Mrs Mather's father, John Morris, who they had to thank for the jackpot prize, which participants have a 1 in 76 million chance of winning.
"We were delighted when my dad offered to pay for us to have a week away with the children," 39-year-old Mrs Mather said.
"We will be making sure we return the favour as our lucky win was all thanks to him."
The Manchester City fans received their cheque in a ceremony at the City of Manchester Stadium earlier.
Cardiff-born Mrs Mather said she would be giving up her part-time job as an information service officer for Trafford Council, while her 44-year-old husband said he planned to take a year off work to take stock of their windfall.
A hotel manager at Menzies Pinewood Hotel in Manchester, he has had to work every Christmas Day for the past 25 years.
Luxury purchases the couple have lined up include an Audi Q7 car for Mr Mather and a Peugeot 207 for his wife, although they said they would be keeping their feet on the ground.
Mr Mather said: "We are hoping to change the lives of our family. We want to make them secure."
Among those who will benefit from their success is Francis House Children's Hospice in Didsbury, where Mr Mather's niece, Shadia, was cared for before her death three years ago from bone cancer at the age of 18.
"The way they treated her was outstanding," said Mr Mather.
"We always said that if one day we had the chance to pay something back we would do that."
The couple want to build a music studio in honour of the teenager, who was a keen singer.