Deaf people link with council in new scheme in Sutton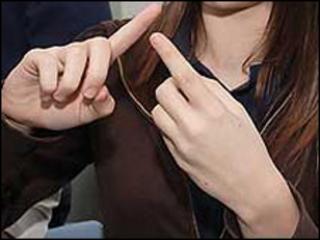 A council has launched what it claims is a "world first" service for deaf people which links up their webcams live with sign language specialists.
Sutton Council claims the technology is the first of its kind to enable deaf people to contact customer services online and receive immediate help.
Deaf people use their webcams to connect with sign language interpreters via the council's website.
They can have a face-to-face chat to ask questions about council services.
'Communication barriers'
Ruth Dombey, deputy leader, said the service would benefit the 250 deaf people in the area.
Katherine Phipps, director of communications and technology at the Royal National Institute for Deaf People (RNID), said: "This positive initiative underlines once again the significant communication barriers that are still faced by millions of people who are deaf or hard of hearing.
"RNID welcomes Sutton's commitment to providing 100% accessibility for people who are deaf in the Sutton community and we would like to see more councils implementing similar initiatives in the future."
The service is called SignVideo BSL Live.
Brigitte Francois, Director of Interpreting at Significan't - the parent company of SignVideo - said: "SignVideo BSL LIVE is powerful and liberating technology for the deaf population of Sutton."
"For the first time, thanks to the determination and the commitment of the council, the deaf community in Sutton will be properly connected to their services via the website."