New Aberdeen square 'to be completed by 2016'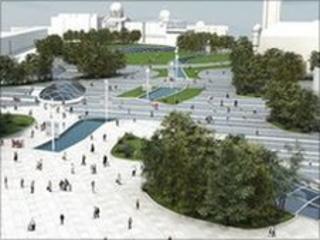 Aberdeen City Council has outlined the timetable for the creation of a controversial new square for the centre of Aberdeen.
It said the project would replace Union Terrace Gardens and would be completed by 2016, if all went to plan.
Councillors backed plans for the redevelopment of the city centre last month.
It involves a £50m donation from local oil tycoon Sir Ian Wood and a £5m donation from an anonymous businessman.
In papers seen by BBC Scotland, to go to the full council next week, the next steps have been outlined for the project.
They include the establishment of a project management board and the tender documents for an international design competition for the project.
The timetable for the project indicates tenders going out in October, the design itself being chosen in June next year, after going out to public consultation.
It also says the construction itself should be completed by April 2016.
The decision followed a public consultation in which 55% of respondents said they did not want the new square.