National Park approves Loch Lomond camping ban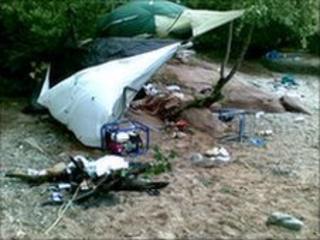 New by-laws to ban camping in certain areas of east Loch Lomondside have been approved by the national park.
The legislation, proposed by the Loch Lomond and the Trossachs National Park, is designed to tackle the impact of "irresponsible camping".
The ban would apply between Drymen and Rowardennan - outside designated camping areas and commercial sites.
The park's decision followed a public consultation. Final approval rests with the Scottish government.
There were 286 responses to the public consultation on the by-laws.
The national park said 60% of the respondents were in favour of the ban, which will make it an offence to camp in tents or other shelters inside the 14 sq km (5.4 sq miles) restricted zone.
The park authority has said it had no plans to ban camping in other areas of the national park, which covers 1,865 sq km (720 sq miles) and contains 21 Munros.
Grant Moir, director of conservation at the park, said: "The National Park Authority has not taken the decision lightly to proceed with the by-laws, but over many years east Loch Lomond has suffered from high levels of visitor pressure and issues of anti-social behaviour.
"This means that the easily accessible east shore area now needs these measures to protect the landscape and improve the visitor experience."
The park authority has said it wants to stop repeated use of the same sites by a minority who are damaging trees, littering and lighting fires.
Mr Moir said the by-laws were part of a package of changes to improve the park for visitors and the local community.
He added: "We have a national asset here and it is our responsibility to protect the area for generations to come."
The camping by-laws will now be subject to a further one-month consultation towards the end of July, when objections can be made to Scottish ministers.
If finally approved, the national park said it would implement the by-laws in April 2011.