St Eugene's tops wedding league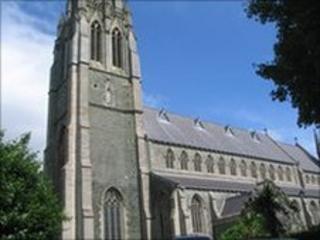 St Eugene's Cathedral in Londonderry is top of the church league when it comes to weddings in Northern Ireland.
According to figures published by the Northern Ireland Statistics and Research Agency the cathedral had the most weddings of all religious buildings in Northern Ireland in 2009.
Of the 445 marriages conducted in Derry in 2009, 54 took place at St Eugene's Cathedral.
Fr Michael Canny of St Eugene's said a "mish-mash of different people" came to the cathedral to get married.
"When we look at the couple that get married, the actual number of people from the parish is very, very small," he said
"In fact we might not even have three or four weddings from the parish, just because our parish is inner-city and is mainly older people, long past the marrying age."
The mother church for the Derry diocese, work began on the construction of St Eugene's in 1849.
The cathedral officially opened in 1873, but work on the bell tower and spire was not completed until 1903.
Pretty pictures
Fr Canny said people wanted to "come home" for big occasions.
"A lot of people have moved to other parishes throughout the city and area, but they tend to gravitate towards the place they were baptised or to where they have a link."
However, a longing for where faith was nourished isn't always the reason for choosing where to marry.
"We went through a period when a lot of people from Belfast, Down and Antrim would come to the cathedral to get married because they would have hired a hotel in Donegal," continued Fr Canny.
"So they would have come to St Eugene's as the last station before they crossed the border."
For one bride and groom appearance was key.
"I remember asking a couple why they were coming to St Eugene's to get married.
"I thought they were going to say they came to Mass, but they said it was because they liked the sanctuary for the pictures.
"It's not what I would be thinking about."
So, with all theses weddings are the priests at St Eugene's run off their feet.
"We encourage people to bring their own priests with them. The preparation for marriage and the marriage papers has to still be done in their own parish," said Fr Canny.
"If not, the first time you might touch base with them would be at the practice, the second time the day of the ceremony and you might never see them again.
"That isn't what we would like."
And it looks like St Eugene's is to remain a popular choice.
"We already have maybe 40 bookings for 2012," said Fr Canny.