Six-figure payment 'nothing to do with Ritz scam'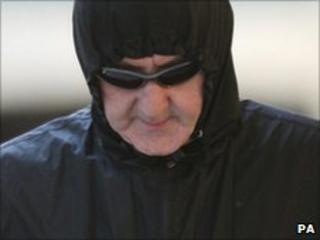 A man alleged to have been involved in a scam to sell London's Ritz said he received 644,000 euros (£528,000), but it had nothing to do with the hotel.
Patrick Dolan, 68, said he "had a good time" spending the money, which related to a completely separate property deal.
He said he gambled "£40,000 a day" on horses and also cleared his debts.
Mr Dolan, Anthony Lee, 49, and Conn Farrell, 57, deny defrauding property dealer Terence Collins and Dutch financier Marcel Boerkhoorn.
Mr Dolan told Southwark Crown Court that after receiving the cash, he "paid off the little things - credit cards and things".
"I didn't owe much money to anyone. I spent the rest on myself," he said.
Referring to his gambling, he said: "I know everything about horses. I know them back-to-front."
He said he bought a Mercedes and spent money on himself because "a wise man told me there's no shops in the graveyard".
Mr Dolan, of Tottenham, north London, Mr Lee, of Goole, East Yorkshire, and Mr Farrell, of Aldershot, Hampshire, deny conspiracy to defraud between January 2006 and March 2007.
The court heard they made false promises to Mr Collins until he - funded by Mr Boerkhoorn - handed over a deposit of £1m (1.22m euros).
But Mr Dolan said the sum he received was not linked to the Ritz and was part of another deal involving property in St Neots, Cambridgeshire.
The trial continues.