Council agrees Denny town centre revamp plan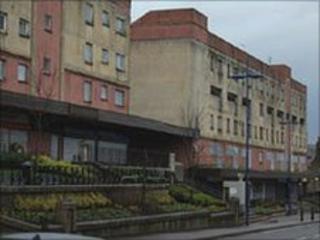 The delayed regeneration of a run-down town centre is now "set to progress" with a less ambitious plan forced by the recession.
Falkirk Council said it had approved an amended scheme for the Denny revamp - despite saying in March that a scaled down "plan B" was not an option.
Residents' are campaigning for the demolition of a condemned flats in the town centre, delayed since 2004.
The council said the block would be demolished in the next two years.
The authority will continue to work alongside existing developer Henry Boot, a council spokesman said.
'Strenuous efforts'
As well as demolition of the Church Walk blocks on Duke Street, the amended scheme will see a new shops and a library being built.
It is estimated the work will take about six years to complete.
Council leader Craig Martin said: "The council has always recognised the urgent need to regenerate Denny town centre and understands the community's concerns but the recession inevitably had an impact on our original proposals.
"Strenuous efforts have been made to find appropriate approaches to allow this important project to be progressed and I am confident that we have secured the best possible solution for Denny in the current climate."
Some plans for housing and office space have been removed from the scheme to cut costs.
The revised project will result in reduced profit for Henry Boot and reflected market conditions, the council said.
Mr Martin added: "We appreciate that for the Denny community the demolition of Church Walk will be the most powerful symbol of the town centre's regeneration and securing this was a priority for the council."
The residents' group has organised several protests and a petition to try to force the council to speed up progress of the town centre's makeover.