Prince Charles begins week-long tour of Wales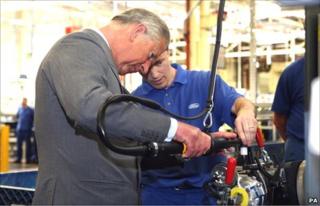 Prince Charles and the Duchess of Cornwall have begun a week-long tour of Wales.
This year, the annual tour takes in diverse locations, from a squirrel conservation project on Anglesey to a sock factory in Carmarthenshire.
The royal couple are also to host a drinks reception for residents in communities near their Welsh home, Llwynywermod, in Carmarthenshire.
They are also attending Armed Forces Day in Cardiff on Saturday.
As well as taking part in the second national day to mark the work of the British armed forces, Charles and Camilla will also be officially opening the £1m museum dedicated to Welsh soldiers at Cardiff Castle.
'Firing Line' brings together the history of The Royal Welsh regiment and the 1st The Queens Dragoon Guards - also known as the Welsh Cavalry.
'Heroic deeds'
"It is very important for us to have the prince here supporting us," said Rachel Silverson, the museum's curator.
"There really is nobody better to acknowledge the role of the Welsh soldier and their history."
The museum opened to the public back in February this year and will be officially opened by the prince and the duchess.
Its exhibits spans conflicts from the Battle of Waterloo to Iraq and Afghanistan today.
Among the famous actions highlighted is the story of the nine men of the 24th Regiment of Foot, who won the Victoria Cross for their defence of the supply depot at Rorke's Drift in 1879 - the greatest number of VCs ever awarded for a single battle.
"We always wanted the formal launch to tie in with Armed Forces Day. It is a chance to remember the heroic deeds carried out over the history of these two regiments, often by ordinary men," added the museum's curator.
The tour of Wales began on Friday with a visit to the Ford engine plant in Bridgend to mark the 30th anniversary of the factory.
The prince also visited Corgi Hosiery in Ammanford, Carmarthenshire.
It is a family owned firm that has been making socks and knitwear since 1892 - and was rewarded with a royal warrant by Prince Charles in 1989.
The company even boasts a design of socks which had their colours chosen by Prince William.
"Those are our best sellers," confessed joint managing director, Lisa Wood, who runs the company with her brother Chris Jones.
She said the visit by Prince Charles was agreed after the company had met his valet at Highgrove.
"It was lovely when we heard that there was a possibility that he may visit.
"It is great for us and for the staff."
She said it was also incredibly important for her firm to have the royal warrant, which means her company can carry the "By Appointment to HRH The Prince of Wales" title on their wares.
"It's a seal of quality - it is a massive, massive thing for us," she said.