Royal Preston Hospital 'errors' over stab death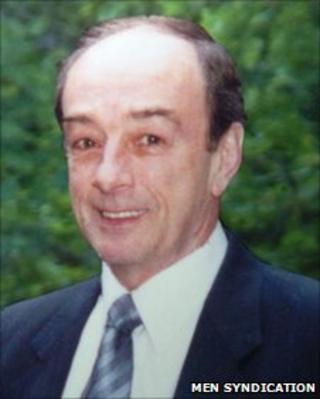 A man who was stabbed by his wife would not have died if it had not been for a "collection of clinical errors" at a Lancashire hospital, a coroner ruled.
John Parker's wife, Elaine, stabbed him with a bread knife in 2005. He died the next day at Royal Preston Hospital.
Coroner Dr James Adeley also said the stabbing was a "deliberate" act - even though she has always maintained it was an accident and he fell on the knife.
Manslaughter charges against Elaine Parker were dropped in 2006.
However, Lancashire Police said they were going to review their investigation into his death following the inquest Preston Coroner's Court.
Mrs Parker told the hearing that her husband had come home drunk and became violent because his evening meal was not ready on the night of the stabbing in March 2005.
She said she was holding the knife and making a sandwich when her husband somehow fell against her and she had tried to push or catch him, telling the inquest the incident was an accident.
However, Coroner Dr Adeley ruled in his narrative verdict that Mr Parker died after he was "deliberately stabbed with considerable force in his left rear flank with a bread knife".
The knife went through his ninth rib and penetrated his abdomen by 5cm (2in).
Even though he believed Mrs Parker deliberately knifed her husband he said the "wound was not fatal" and his death was caused by the failings of the staff at Royal Preston Hospital.
"As a result of serious failures in the immediate pre-operative assessment leading to the choice of a very inappropriate anaesthetic, John Parker died as a result of his undetected calcific aortic stenosis following necessary urgent abdominal surgery for the stab wound."
The manslaughter charges against Mrs Parker were dropped in 2006 because the defence gained new evidence about the hospital's failure in its treatment of Mr Parker.
The Crown Prosecution Service (CPS) said it no longer had a case because they could no longer prove her actions directly led to his death.
A CPS spokeswoman said they had previously looked at prosecuting staff at the hospital over his death but they did not have a strong enough case.
Mrs Parker, who now lives in Wigan, Greater Manchester, left the hearing shortly after the verdict was delivered and refused to comment.
She had told the inquest of verbal and physical abuse by her husband, which has been denied by his family.
Mr Parker's mother, Margaret, 85, wept after the coroner's ruling and his brother, Philip, 57, called on the police and CPS to reopen the case following the verdict.
Mr Parker, from Hampshire, said after the hearing: "It's rubbish. I think it is a disgrace to the legal system somebody can do this. I was not happy with the criminal investigation at the time.
"The coroner said it was a deliberate act. She said it was an accident."
Mr Parker, a mechanical engineer, and Mrs Parker, a retired tax inspector, had been married for 34 years before the incident at their home in Hoghton, near Preston.
A spokesperson for Lancashire Teaching Hospitals NHS Foundation Trust, expressed its "sincere condolences" to Mr Parker's family and said they have offered to meet with them.