Accused admits providing gun in Derbyshire taxi killing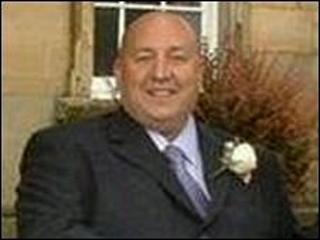 A man accused of killing a taxi driver in Derbyshire has told a court he provided the weapon but someone else fired it.
Stuart Ludlam, a 43-year-old father-of-three, was found dead in his taxi at Cromford railway station on 17 September. He had been shot.
Colin Cheetham, from Ripley, Derbyshire, denies murdering Mr Ludlam.
He told Nottingham Crown Court he had been at the station the day Mr Ludlam died but another man had fired the gun.
Mr Cheetham told the court he was interested in photography and shooting, and owned eight weapons.
The jury heard he met a man in a pub called "Geoff" who offered him £50 to borrow a gun to threaten a drug dealer.
Mr Cheetham said he initially refused but was persuaded to meet the man at the station on 17 September.
The defendant said "Geoff" took the gun and made a phone call using his mobile phone and soon afterwards a taxi arrived.
He said Stuart Ludlam got out of the car, there was shouting and "Geoff" fired the gun.
'Lure stranger'
Mr Cheetham said he then left but returned 15 minutes later.
He said he saw the body and leant inside the cab to try to find a CB radio, before taking the gun and driving off.
When asked why he did not report the incident, he told the court: "I was too frightened to say anything."
The prosecution claims Mr Cheetham planned to lure a stranger to a secluded location to be killed.
The trial continues.