More than 500 attend Denbighshire soldier's funeral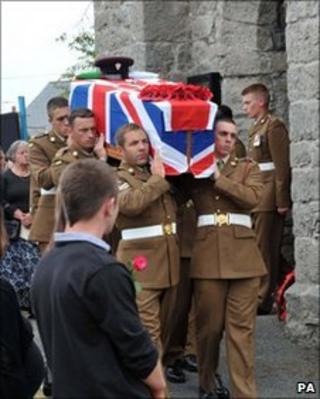 The funeral has taken place of a 23-year-old Denbighshire soldier killed during a gun battle in Afghanistan earlier this month.
L/Cpl Alan Cochran, originally from St Asaph, Denbighshire, was a member of the 1st Battalion The Mercian Regiment.
More than 500 mourners were at the funeral at St Mary's Church, Ysceifiog, Holywell.
Before the service, his family received the Elizabeth Cross from a soldier who served with him in Helmand Province.
The Elizabeth Cross was instigated in July last year, to acknowledge the loss suffered by families.
L/Cpl Cochran was killed along with Cpl Terry Webster, from Chester, during an exchange of fire with the Taliban in the Nahr-e-Saraj district.
'Career soldier'
Just before the service began, L/Cpl Cochran's mother Shirley and brother Mark were given the Elizabeth Cross.
As the clock struck noon and L/Cpl Cochran's hearse stopped outside the 5th Century church, the soldier's best friend Private Ian Brookshaw prepared to hand over the award.
Watched by hundreds of mourners outside, Pte Brookshaw - brother of L/Cpl Cochran's fiancée Claire Brookshaw - addressed the soldier's brother Mark.
"It is an honour and a privilege to present you with this Elizabeth Cross."
Mr Cochran turned to his mother and pinned the cross on her lapel before they hugged.
L/Cpl Cochran was killed on 4 June this year.
His commanding officer Lt Col Andrew Hadfield said L/Cpl Cochran had recently been promoted and had willingly taken responsibility for the lives of his fellow men.
He said: "His friends described him as having a heart of gold, being totally unselfish, and having the worst dress sense in the battalion."
A veteran of tours of duty in Northern Ireland and Iraq, his commander said L/Cpl Cochran was a "committed career soldier".
"Alan loved the Army and his friends within it, and was probably the most selfless of men, always looking out for others and helping them to give their best," he said.
L/Cpl Cochran's fiancée, Claire, in a tribute said she had known him for over two years.
"He has been a great part of my life and always will be."
She left a heart-shaped bouquet made from red and white carnations, with a message which read: "I love you with all my heart. We'll meet again some day and be together 4 eva. Sleep tight Babe".
'Tremendous son'
Mrs Cochran described her son as "tremendous" adding she was proud he did "his duty helping the people of Afghanistan".
She said: "He was proud to be a soldier and died doing a job he loved."
Her floral tribute read: "Alan, my love, my pride, my heart. Always with you. Mam."
Earlier, Mrs Cochran said in a statement issued by the Ministry of Defence: "Alan was a tremendous son. He was proud to be a soldier and died doing a job he loved.
"We are proud of the fact that Alan was prepared to do his duty helping the people of Afghanistan."