UK compensation for Afghan civilian deaths trebles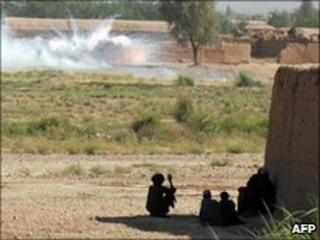 The Ministry Of Defence has confirmed that payments to relatives of Afghan civilians killed in error by British forces have trebled over the past year.
Figures released to Channel 4 News show the MoD paid compensation to relatives of at least 105 Afghans last year - three times more than in 2008.
The figures are likely to cause embarrassement within the British military and government.
Protecting the local population is supposed to be Nato's priority.
Channel 4 News obtained the figures through a Freedom of Information Act request.
It reported on its website that in 2008 there were only 33 payouts for deaths, compared to at least 105 payouts in 2009.
Two hundred and thirty claims were made in 2009, many of which were refused, a steep rise from the 151 that were made in 2008, it reported.
The Ministry of Defence has issued a statement saying that "any incident involving civilian casualties is a matter of deep regret, particularly when the actions of international forces may be at fault".
The MoD said that every effort was made to avoid civilian casualties, but noted that "the insurgents often target civilians... and operate from densely populated areas in order to deliberately draw civilians into battle".
The MoD added that payments made to civilians did not necessarily mean that UK forces were legally liable for civilian casualties.
Channel 4 News reported that the documents showed $875 (£584) was paid out last year to the family of a nine-year-old girl shot in the head, and $950 (£634) was paid for the death of a 10-year-old boy.
In one case the Ministry of Defence also paid out $300 (£200) for a lost mobile phone, it said.
US Gen Stanley McChrystal, fired by President Barack Obama this week over comments about senior White House officials, was credited with turning the tide in the fight against the Taliban counter-insurgency and reducing civilian casualties.
He had overall command of Nato operations in Afghanistan since May 2009.