Funeral for two children who died in Buxton house fire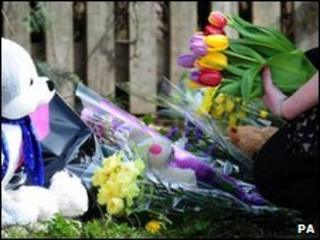 The funeral of two children who died in a house fire has taken place in Derbyshire.
Niamh and Cayden Maynard, aged five and two, died at their home in the Fairfield area of Buxton on 23 April.
Their mother, Fiona Adams, 23, has been charged with two counts of murder, the attempted murder of her eight-month-old son Kiernan and with arson.
The service was held at St Peter's church, in Fairfield, at 1300 BST.
'Solidarity and grief'
The ceremony was followed by a private burial.
The Reverend Carl Edwards, who is leading the service, said before the service: "The funeral will be a very solemn occasion.
"Included in the service will be children's prayers and some songs that Niamh used to sing at her school assemblies.
"It gives an opportunity for the community to come together and show their solidarity and grief."
More than 500 people were expected to attend the service, which was relayed outside to people who are unable to get inside the church.