Go-ahead for Fleet church hall car park over graves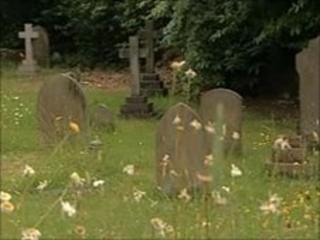 Work on a car park which will be built over graves at a north Hampshire cemetery will go ahead despite objections.
The land, near All Saints Church in Fleet and already close to an existing council-run car park, will provide spaces for a new church hall.
Some locals are upset at the plans, which have already received permission.
The church said there was "overwhelming support" for the project and work is due to start next month.
'Headstone removal'
Resident Richard Godfrey, who lives opposite the church, said he was "shocked" at the plans and started a campaign among residents.
"My issue is the disregard," he added.
"I was brought up to never walk on graves, but to drive on graves is crazy."
Parish vicar, the Rev Roy Woodhams, said it had contacted as many relatives of those buried there as possible, and had received no objections from them.
He added that providing parking with the new church hall was a condition of the planning application and it was not possible to use the existing car park nearby.
The most recent grave in the cemetery dates from 1964 but the majority are about 100 years old.
Work on the car park, and the removal of the headstones, will start in July, and should be completed by October.
No human remains will be disturbed and the church said it planned to place a small plaque with the names from the graves that had been covered near to the new church hall.