Britain's Got Talent judge Piers Morgan gets married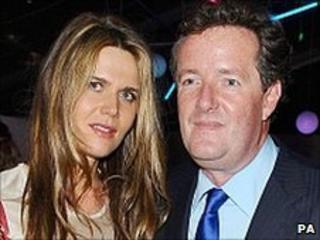 Britain's Got Talent judge Piers Morgan has married his girlfriend Celia Walden.
It is thought the couple tied the knot in the Oxfordshire village Swinbrook, with a reception in a nearby pub.
According to reports Morgan did not invite his colleagues Amanda Holden and Simon Cowell to the wedding.
However, on micro-blogging site Twitter, Holden said: "Piers got married today. I could not be happier for my lovely friend."
Morgan, who has three sons with his first wife Marion Shalloe, has carved out a successful career in TV since he was sacked as editor of the Daily Mirror.
As well as Britain's Got Talent, he has fronted his own travelogue series - Piers Morgan On... - which saw him travel to Dubai, Monte Carlo and Hollywood.
He also has a chat show, Piers Morgan's Life Stories, with guests including Gordon Brown and Dannii Minogue.
Walden, who is the daughter of the former Conservative MP George Walden, is a columnist for The Daily Telegraph.