Labour MP brands party 'sluggish'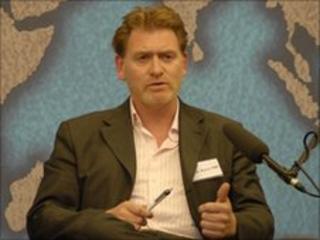 A Labour MP has branded his own party "sluggish" and said there seemed to be "no appetite at all for new thinking" - particularly on defence and foreign affairs.
Eric Joyce, the Falkirk MP, said Labour needed to rethink its stance on the replacement for the UK's Trident nuclear deterrent.
He said the decision to leave Trident out of the strategic defence review was "inexplicable".
Mr Joyce made the comments on his blog.
The MP was a former ministerial aide at the Ministry of Defence and resigned during Labour's final term in office, over Gordon Brown's strategy in Afghanistan.
Now in opposition, he said Labour had showed no appetite for new thinking and described the party's policy on Trident as flawed.
He said that Labour was operating under the assumption that if it was to call for Trident to be included in the defence review, the public would assume it had "returned to the desperate days of the 1980s".
Mr Joyce continued that it would be "sensible" to look carefully at the Trident replacement - and at present policy in Afghanistan - and said most people would welcome that stance.