Enrique Iglesias denies Amy Winehouse 'row'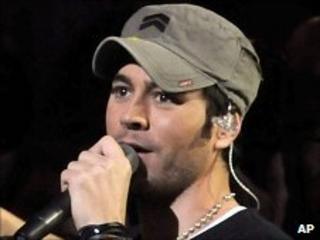 Enrique Iglesias has denied reports that he lost his temper with Amy Winehouse at a private party in London.
According to press reports, Winehouse talked through the Spanish star's performance of Hero, prompting him to ask her to be quiet.
However, the star has insisted the whole story was "completely made up".
He added: "The story came from 'a source'. How come they always say 'a source'? I didn't even know Amy Winehouse was there."
"The thing that makes it even funnier is I told my manager that I'd do an interview with the paper to show that it was not true, or ask them to retract the story, but it's funny how the media will never retract something. They will never want to prove they're wrong."
'Stupid'
The singer, who is in the UK to promote his new album, Euphoria, said he was not the only star who had to endure false stories in the press.
"I'm good friends with Ricky Martin's manager and I remember when those pictures came out of him and another guy at the beach, the papers said it was his boyfriend, but it was actually his brother.
"All they had to do was do a little bit of research.
"It's funny - you've got to laugh and you can't really take it seriously.
"I think if they ever said anything that was life-threatening, or if I had a son and the stuff they printed was going to hurt him, then I would take action, but anything stupid I don't care."