Tudor maps go on show at Portsmouth museum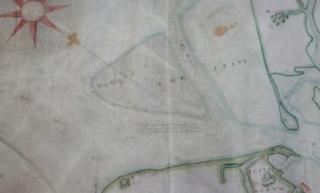 An exhibition of maps showing what Portsmouth looked like in Tudor times is being held at the Mary Rose Museum.
One map, a chart dated between 1580 and 1620, may have been designed to reveal clues to where the wreck of the Mary Rose lay at the bottom of the Solent.
The Mary Rose sank on 19 July 1545 with the loss of more than 400 lives, after 34 years of service.
Mapping Portsmouth's Tudor Past will run at the museum in the Historic Dockyard from 2 July until 17 October.
The maps have been loaned from the British Library, UK Hydrographic Office and the Admiralty Library.
Ships aground
Most of them are hand-drawn and are works of art in their own right, the Mary Rose Trust said.
The chart of Portsmouth Harbour has a compass rose placed outside the harbour mouth with its fleur-de-lis immediately on top of the wreck site of the Mary Rose.
Researchers said it would not be showing a navigational route since this would lead ships aground on the the shallows of Spitbank so it may be marking where Henry VIII's flagship sank.
Another map, which forms the centrepiece of the exhibition, dates from 1545, the very year the Mary Rose sank defending the country from French invasion.
It is thought to be the the earliest scale map of an English town and one of the earliest in Europe.
Dr David Starkey CBE, trustee of the Mary Rose Trust, said: "The art and science of map-making - cartography - blossomed during Henry VIII's reign and reached new heights under Elizabeth I.
"The whole southern coastline was mapped, from the Wash to Milford Haven, and fortifications were built to guard possible landing points.
"The navy was also transformed, with bigger and better ships requiring deep-sea ports.
"Portsmouth was one of the most important of these new royal naval bases and the Solent became, as it was to remain to the 20th Century, a key to England's defences.
"The strategic significance of the Solent meant that some of the earliest accurate maps in the country are of this area."
The Mary Rose lay undiscovered under the sea for more than 400 years before being raised in 1982.
A new £35m museum to house the Mary Rose and its collection of artefacts is planned for 2012.
The trust needs to raise another £5m to reach its funding target.