Firefighters called to Solihull Jaguar Land Rover site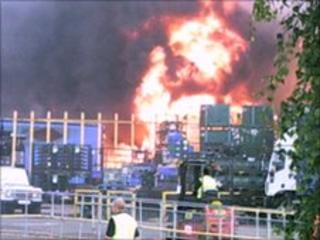 Firefighters tackled a severe blaze at Jaguar Land Rover in Solihull.
A fault caused an electric forklift truck to catch fire, which spread to a 40ft (12m) articulated lorry trailer, several plastic storage crates and a storage building at the Lode Lane site.
Six fire engines went to the scene at 1520 BST and it was extinguished at 1825 BST.
West Midlands Ambulance Service said there were no casualties.
'Several explosions'
Delivery driver David Sumner said: "I was dropping off some items at the site when suddenly there was a huge cloud of smoke that turned the sky dark grey.
"A large amount of ash came down over my van and the other vehicles.
"There was also a shower of plastic mouldings, what looked like interior pieces from cars. I also heard what sounded like several explosions."
An employee told BBC News that the forklift caught fire by some petrol pumps in the North works area of the plant.
He said: "There are some exterior petrol pumps... used to fill up cars.
"It's an external fire not an interior fire, thankfully."
Eyewitness Terry Griffin was on nearby Elmdon Heath and said he heard a constant sound of klaxons and cars horns and then shouts, followed by what seemed to be a series of bangs.
"The smoke seemed to rise up to 200ft (60m) and there was a constant sound of klaxons and cars beeping their horns and shouts followed by what seemed to be a series of small bangs then a few large bangs, possibly explosions."
He added that there was a "strong smell of burnt plastic or rubber".
West Midlands Fire Service said about 5% of the storage building had caught fire.