Kelvingrove Museum to open at weekend despite strike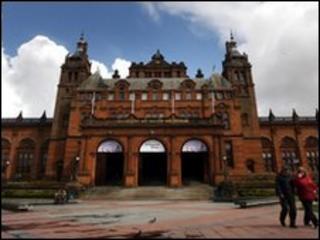 Scotland's most popular museum is to remain open this weekend despite another strike.
Staff at Kelvingrove in Glasgow are taking part in a two-day walkout in a row over a pay freeze and overtime cuts.
The charity that runs the museum - Glasgow Life - has put arrangements in place to try to keep the main part of the building open over the weekend.
However, the Glasgow Boys exhibition will be closed to the public.
Anyone planning to visit is being advised to check the Glasgow Life website on Saturday.
Previous strikes have closed all the city's main museums and galleries but unions are now targeting specific venues and events.
The galleries, museums and sports facilities used to be run by Glasgow City Council directly but were transferred to the charity three years ago.
'Effective action'
The unions argue the pay freeze and the cuts in overtime will leave their members worse off.
Glasgow Life said the alternative would be to cut jobs or services. It also stressed that no-one is having their basic pay reduced.
The charity was known as Culture and Sport Glasgow until this week.
Unions questioned the decision to spend more than £50,000 changing the name, signs and uniforms.
Last weekend, striking workers picketed outside a major swimming event at Tollcross leisure centre.
However the charity said the UK Masters Swimming went ahead "unaffected".
Further strikes are scheduled at other venues and events in the coming weeks.
Unions insisted the action was effective and was causing the charity big problems.