Grass fire on MoD land on Salisbury Plain continues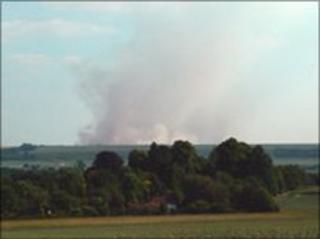 A grass fire which has been alight for more than a day on military land on Salisbury Plain is continuing to burn.
A Ministry of Defence spokesman said the area was in a remote location and used for live firing practice.
He added they would let the fire continue to burn unless life or property was threatened in which case the fire brigade would be called.
It is thought the fire was started by sun shining through broken glass igniting tinder-dry grass.