Dungeness purple herons 'in first UK hatching'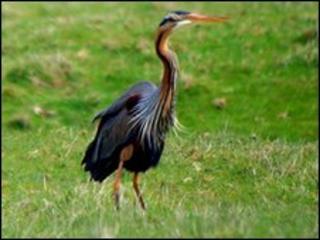 A pair of purple herons, which are thought to be the first of their type to nest in the UK, appear to have to bred successfully, the RSPB said.
The wildlife charity said the birds are thought to have hatched eggs in the nest they have made on the Dungeness peninsula in Kent.
Purple herons usually breed in southern Europe and visit Britain in small numbers each year.
The RSPB has put a "species protection scheme" in place to protect them.
It said it was not clear how many chicks there were in the nest, but increased activity of the parents coming back and forth to the site indicates they have young to feed.
Chris Corrigan, the RSPB's regional director for south-east England, said: "The arrival of these chicks is a timely reminder the Dungeness peninsula is one of the most important and sensitive wildlife habitats in the UK."
The purple heron, which is closely related to grey herons that are widespread in the UK, can reach 90cm (2ft 11in) in height.
In Europe, the birds breed in colonies in reedbeds and feed on insects, reptiles and amphibians.
Experts said the bird, which has struggled in Europe in recent decades, is one of the species likely to be setting up home in southern Britain as climate change pushes wildlife further north.