Leicester City Council warns of park barbecue ban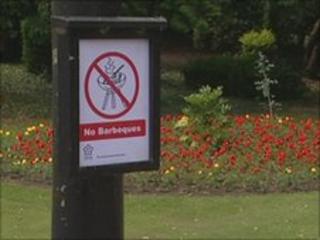 Anyone caught having a barbecue in Leicester's parks, except for in designated areas, faces a fine of up to £500, Leicester City Council warned.
The hot weather prompted the council to remind residents of a bylaw banning barbecues in its parks which was adopted in April 2009.
Parks manager Stewart Doughty said: "Part of the problem for us is people have barbecues and damage the grass."
Damage to bowling greens and cricket squares had been "costly", he said.
There has been a designated barbecue area in Watermead Park since May.
Mr Doughty added: "Some inconsiderate people have left the barbecues on the grass - which could be a problem if children or dogs go up to them when they are still hot."
Meg Kedie, 23, a University of Leicester student who lives in Clarendon Park, and uses Victoria Park, said barbecues should not be banned.
She said: "I don't think barbecues are the problem - it's the litter they cause, that's the issue, so as long as people deal with that they should be allowed."
But Hossam Elsisy, 30, from Clarendon Park, added: "Barbecues shouldn't be allowed - it's important for the park to look nice and I want to see the plants rather than people messing around and litter."
Mr Doughty said: "People used to just set up those tray barbecues on the wooden picnic tables and end up setting fire (to them) and ruining them."