Underage drinkers at Lytham Club Day face town ban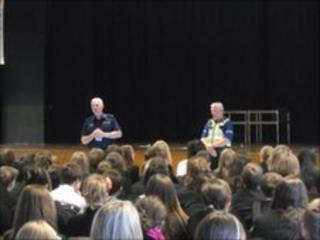 Teenagers attending the Lytham Club Day in Lancashire have been warned by police that if they drink alcohol they will be banned from the town.
Officers will prevent under-18s from going out in Lytham St Annes for the rest of the weekend if they are discovered drinking.
The annual event, which involves a parade and vintage car rally, has witnessed teenage drinking in the past.
Lancashire Police said they would confiscate alcohol and contact parents.
'Provide support'
Officers visited schools to explain the ban and all of the town's pubs and off licenses have been warned against selling alcohol to underage drinkers, police said.
A police spokesman said that Lytham's YMCA sports pavilion had been set aside as a safe place to take children under the influence of alcohol.
Sgt Dave Hannan said: "This is a fantastic family event but if children are found to be under the influence of alcohol, their parents will be contacted to collect them and notices will be issued banning the child from Lytham for the whole weekend.
"The details of the child will also be referred to partner agencies to provide support in relation to the underage drinking.
"Lytham Club Day is a family day, and police want to ensure the safety of all who want to enjoy the day."