Thousands of cyclists ride for cancer charity in London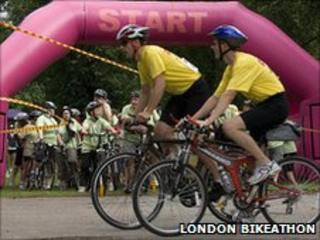 About 6,500 cyclists took part in a charity ride through London to raise money for research into leukaemia.
Organisers said all places at the 14th Leukaemia & Lymphoma Research London Bikeathon, which marks the 50th year of the charity, were taken up.
The ride began from three sites in London - Thames Barrier Park, Royal Hospital in Chelsea and the Ham House.
The 52-mile route will pass through landmarks like the London Eye, St Paul's Cathedral and Richmond Park.
A 600-metre traffic-free circuit has also been created specially for children.
Organisers are hoping to raise more than last year's total of £480,000.
Sir Trevor McDonald and Alastair Campbell are among the celebrities who are supporting this year's event.
Mr Campbell, who is the charity's chairman of fundraising, said: "After losing my best friend - the journalist John Merritt - to leukaemia in 1994 and later John's daughter Ellie to the same disease I am determined to do all I can to help Leukaemia & Lymphoma Research find better treatments and cures for blood cancers."