Two quizzed over fire at disused school in Northampton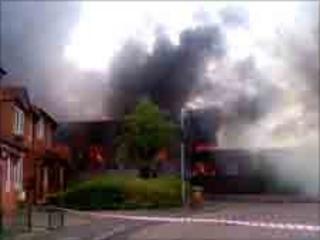 Two people have been arrested on suspicion of arson and released on bail pending further inquiries after a fire at a disused school in Northampton.
Most of the former Greenoaks school at Kingsthorpe has been destroyed despite the efforts of about 60 firefighters.
The fire broke out on Saturday afternoon and crews tackled flames and smoke through the night.
A forensic examination of the gutted building is due to take place on Sunday.
Rabecca Maipambe, who lives close to the site, said: "I was surprised when it suddenly turned all dark.
"I looked outside the window and noticed a cloud of smoke.
"There was hot ash debris flying around the nearby areas."