Canada and India sign nuclear co-operation deal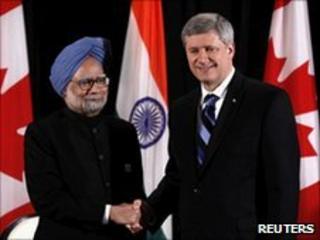 India and Canada have signed a nuclear agreement to promote and develop co-operation in civilian nuclear energy.
The agreement opens up the Indian market to Canadian nuclear exports, allowing Canadian firms access to India's expanding nuclear market.
The deal has been signed during Indian PM Manmohan Singh's visit to Canada to take part in the G-20 summit.
India has also held nuclear talks in Tokyo as Mr Singh met Japanese PM Naoto Kan on the sidelines of the summit.
Officials say the talks in Japan are being held to agree a civilian nuclear energy deal that would allow sales of advanced technology by Japanese companies such as Mitsubishi and Hitachi to India.
India has already signed similar deals with eight countries, including the US and Russia.
'International realities'
The deal with Canada also includes co-operation in the fields of nuclear waste management and radiation safety.
"The Civil Nuclear Co-operation Agreement that we have signed breaks new ground in the history of our co-operation in this very important sector," Mr Singh told reporters at the signing ceremony with his Canadian counterpart, Stephen Harper, in Toronto.
"It reflects the change in international realities and will open new doors for mutually beneficial co-operation in nuclear energy," he added.
The contribution of nuclear energy is expected to rise from a mere 3% today as India embarks on a substantial expansion of nuclear power reactors over the next few decades.
Coal still accounts for more than 50% of India's energy use.
The agreement marks a turning point for Canada, which stopped nuclear co-operation with India in 1974 after India used plutonium from a Canadian reactor to build an atomic bomb.
India's nuclear isolation ended after it signed a landmark agreement with the US in October 2008.