Seaside towns 'earn Wales £300m'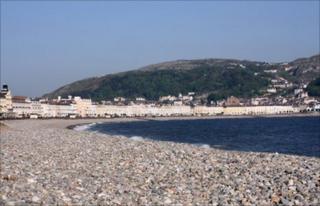 Seaside resorts are still worth more than £300m a year to the Welsh economy, according to a study.
The report by Sheffield Hallam University looked at 121 coastal resorts in Wales and England, including Rhyl, Llandudno, Porthcawl and Barry.
It found that despite the rise in foreign package holidays, seaside resorts in Wales still pump millions of pounds into the economy.
Researchers said the findings "explode important myths about the industry".
The coastal strip around Llandudno is responsible for nearly 5,000 jobs say the researchers, while Tenby in Pembrokeshire, supports more than 2,500 jobs.
The report, from the university's centre for regional economic and social research, said the industry employed more people than those working in the motor industry, the aerospace industry, pharmaceuticals or steel.
Emma Morgan, a hotelier in Abersoch, Gwynedd, said it was not that much of a surprise, especially when the weather has been as good as it has this summer.
She said: "If you've got the weather like you've got now, you don't need to go abroad. You can just spend your time here, it's lovely.
"I think there's a demand for beach tourism. People come down to the seaside when the forecast is good and it's absolutely heaving here.
'Myth'
"People do want to get away to the seaside and I think we should make more of that and encourage it more, because it does bring a lot of trade into the area.
The report found that across England and Wales, seaside resorts directly support 210,000 jobs plus large numbers indirectly through the supply chain.
Peter Hampson, director of the British Resorts and Destinations Association, said: "People who follow the fortunes of the British seaside tourist industry have always known it is a myth that the industry is in terminal decline, but we have not had the comprehensive and convincing evidence to prove otherwise until now.
"Britain's seaside resorts face challenges in responding to changing economic circumstances and consumer tastes, but what the Sheffield Hallam report tells us is that in many places around the coast the seaside tourist industry is still alive and well - and growing.
"The seaside tourist industry has been written off too often. This report highlights its resilience."