Students killed in suspected drink-drive accident in US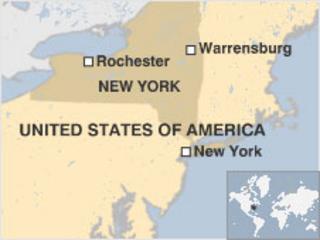 Two British students have been killed in a suspected drink-drive accident in the US.
Dominic Hartley, from Bredon, Worcestershire and Emily Lewis from Aberdeen were hit by a car in New York state last Thursday night.
The 21-year-olds had been working at a summer camp in in Warrensburg. A third Briton was injured.
Car driver, Peter Goldblatt, 39, has been charged with drink-driving and aggravated vehicular homicide.
Popular student
The three Britons were among a group of seven people standing at a road side when they were hit, New York state police said.
Mr Hartley had just completed the first year of an HND in water sports at Swansea Metropolitan University.
A university spokesman said: "We are deeply shocked by this tragic accident as Dom was a very talented student who was dedicated to watersports and adventure activities.
"He was very popular with the student group and made a marked impression on university life and will be much missed by students and tutors alike. Our hearts go out to his family and friends."