Man admits picture row stabbing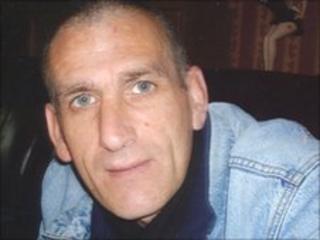 A father-of-three has admitted fatally stabbing a friend who punched his girlfriend during an argument over a photograph in her Fife home.
Jason Kinnaird, 29, stabbed victim Johnny Moran, 41, four times before dragging him out into the street where he stabbed him in the neck.
The High Court in Glasgow heard Mr Moran's body was left in Kings Road, Rosyth, Fife, on 3 January 2010.
Judge Lord Bannatyne deferred sentence until next month.
Advocate depute Paul Kearney, prosecuting, told the court that Mr Moran, had gone with Kinnaird for drinks at Ms Bell's house on 2 January.
However, Mr Moran's behaviour became increasingly argumentative and unpleasant and police were called out.
Mr Kearney added: "As Mr Moran's actions were not deemed criminal by the officers they left the house at about 2340 GMT.
"After this the three remained in the house drinking and listening to music. When the accused was out of the room Mr Moran began to criticise him.
"He then took a photograph of Kinnaird and tore off part of it to make a hand-rolled cigarette."
Ms Bell was upset about this and a row developed in which Mr Moran punched her.
This assault was seen by Kinnaird as he came back into the room and he punched Mr Moran knocking him into the television.
Kinnaird then picked up a knife and stabbed Mr Moran in the chest.
Mr Moran pulled the knife out of his own chest and Kinnaird took it from him and stabbed him a further three times.
Kinnaird then dragged Mr Moran away from the house for 20 to 30 minutes and when he returned Ms Bell said he told her he had slit Mr Moran's throat.
The court heard that Kinnaird denied saying those words to his girlfriend, but accepted that he had cut Mr Moran's throat.
It also heard that Kinnaird has 51 previous convictions.