Rescue team call-outs still up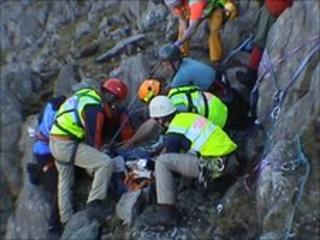 A mountain rescue team says call-out rates seem to be remaining high for the second year running.
Six months into 2010, Ogwen Valley Mountain Rescue Organisation near Bangor, Gwynedd has already dealt with 58 incidents.
Last year it dealt with a record 133 incidents, compared to an average of 65 annually over previous years.
Teams in the Brecon Beacons have been involved in 53 incidents so far, whilst North East Wales have dealt with 26.
"We are neck-and-neck with callouts this year compared to this time on last year," said Chris Lloyd from the Ogwen Valley Mountain Rescue Team.
The figures were released after another busy weekend for the team.
Latest incident
It included two of the team having to leave an Emergency Services Day on the village green at Betws y Coed to help a female climber who fell in the Ogwen Valley.
The incident happened on a route called Cnefion Arete, in Cwm Cnefion above Cwm Idwal in the Ogwen Valley.
"The lady, from the Wrexham area, was scrambling with another colleague from her mountaineering club," said Mr Lloyd.
"She lost her footing or hand hold and fell 10 m (30ft) onto the steep rocky ground at the start of the climb," he added.
Mr Lloyd said it was a "classic route which is scrambled up (with no ropes) by experienced mountaineers.
"She sustained a severe gash to her head, a severe injury to her left elbow and right ankle as well as possible back injuries," he said.
The rescue then involved lowering the casualty on a stretcher - 75m (250ft) to the floor of the Cwm - to where she could be airlifted to hospital.
"It was very bad luck, as she was properly equipped and experienced," Mr Lloyd added.
Brecon Mountain Rescue Team is having its busiest start to a year since its formation in 1969.
The team has responded to 50 emergency calls so far, but overall the numbers still might balance out, as the total number of callouts last year was 97.
"We've had our busiest start to the year, and we've just reached 50 calls," said Mark Jones from the team.
"However, oddly we're having our quietest summer for some considerable time, having had 19 calls in January, but only 1 so far in June," he added.
The North East Wales Search and Rescue team is also busy with 26 incidents in the first six months of 2010 - according to the team's website.
This compares to 57 call-outs for the whole of 2009, and 36 incidents in 12 months in 2008.