Drug-dealing garage boss jailed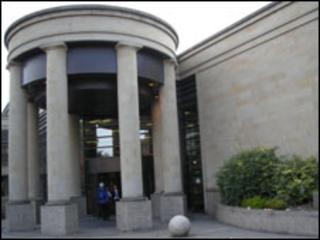 A garage boss has been jailed for 11 years and two months after his own CCTV cameras showed him involved in illegal drug deals.
John James, 48, was arrested along with Martin Dickson, 27, after police raided JJ Autos in Wishaw, North Lanarkshire, in September 2008.
The High Court in Glasgow heard how officers found a kilo of heroin as well as cocaine, a shotgun and crossbow.
Dickson was sentenced to five years and two months in prison.
The court was told that during the raid, police found a kilo of heroin with a potential street value of £70,000 buried in the grounds of the garage as well as a small quantity of cocaine.
Black sack
They also found a sawn-off shotgun hidden behind a plasterboard wall and a loaded crossbow under James' desk.
James, a wheelchair-user, also had £2,000 in cash in his trouser pockets when police searched him.
Footage from CCTV cameras at the garage showed James, whose spinal cord was severed after he was shot nine years ago, involved in several drugs transactions.
Dickson was also shown approaching the garage after hours and throwing a black sack over the fencing. The bag was similar to the one which police dug up containing the heroin.
James, from Wishaw, was convicted of being concerned in the supply of cocaine and heroin between 1 and 11 September 2008, and possessing without lawful authority the crossbow and gun.
Dickson, also from Wishaw, was convicted of being concerned in the supply of heroin and cocaine between the same dates.