Scots MP says England were 'cheated' over Lampard strike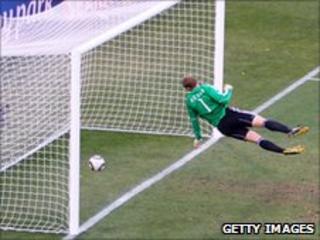 A Scottish MP has joined the row over England's disallowed second goal against Germany at the World Cup.
Angus MacNeill, SNP MP for the Western Isles, has tabled an early day motion in parliament urging Fifa to reconsider using television evidence in matches.
The politician said England "were cheated".
In 2006, Mr MacNeill flew the St George's Cross from his Stornoway office to say thanks to English constituents who had voted SNP.
England's Frank Lampard was denied a goal against Germany, despite his effort having crossed the line.
Later on Sunday, Carlos Tevez's first goal for Argentina against Mexico was allowed to stand despite him being offside.
Football referees are not allowed to use television replay evidence.
Mr MacNeil said: "England were cheated and, while there is no evidence that allowing Frank Lampard's goal would have changed the final outcome, it would certainly have changed the atmosphere of the match and given the team something to play for.
"Almost all major sports now use replay evidence, and Fifa should embrace goal-line technology in the interests of fair play for fans, players and referees."